Hong Kong's lucky, lucky football fans will catch a glimpse of Manchester United's triallists, youth team players and kit men on July 29th when they play Kitchee FC at Hong Kong stadium.
Hong Kong's reigning champions announced the news this week with Man Utd club ambassador Peter Schmeichel making all the right noises about it being a serious game and an important part of the club's pre-season plans, so fans, he said, should snap up tickets fast.
Those tickets, which go on sale later this month, will be priced between HK$390-990 (with students and old folk eligible for a slight reduction). That's a lot of money to see a team that won't resemble anything like the Manchester United the fans all know.
Don't believe me? For last year's pre-season game at Shanghai Shenhua, this was the line-up:
Lindegaard; Veseli, Ferdinand, Carrick, Brady; Valencia, Powell, Anderson, Petrucci; Kagawa; Macheda.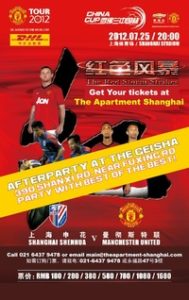 That's five players who had yet to play a competitive game for United, with a reserve keeper in goal and a fourth-choice striker (at best) up front. Another four debutants were brought on in the second half, along with 17th-choice striker Bebe, plus 20 minutes for Paul Scholes and 30 minutes for Javier Hernandez. I'm sure that's exactly what 43,000 fans had in mind when they coughed up for tickets. And you'll notice there was no sign of Wayne Rooney or Ryan Giggs, who had both been plastered all over the promotional poster for the game (above left).
Expect more of the same, before you go running to buy your tickets to see van Persie et al this summer. Kitchee usually play in the 3,500-seat Tseung Kwan O Sports Ground, but this game will be in the 40,000 capacity Hong Kong Stadium, so the promoters are clearly predicting there will be plenty of suckers.
And at the risk of becoming a broken record, Man Utd's MO is getting a little old, but the media keep lapping it up. From Man Utd's press release ESPN's report:
"…of the club's 659 million supporters 108 million of those fans are based in China."
Not even Manchester United calls them all "fans", instead preferring the deliberately misleading word "followers" and relying on the small print to allow for plausible deniability, but congratulations to ESPN for falling for their trick.
By the way, Kitchee have beaten AC Milan and Juventus in exhibition games in the past and held Arsenal to a 2-2 draw last summer, so while Manchester United may be taking the piss off the pitch, they may not have it all their own way on it.