You know the script: down in the game heading into the final stages, in a stadium that holds 40,000, a stunning rally to complete the victory, grown men weeping tears of joy at the end. You've seen it in movies dozens of times, probably dreamed it hundreds more, but it's not often you see a Chinese baseball team as the main protagonists. That, though, is exactly what happened this week at the World Baseball Classic in Fukuoka, Japan.
But there was one small difference. That stadium that holds 40,000? Empty.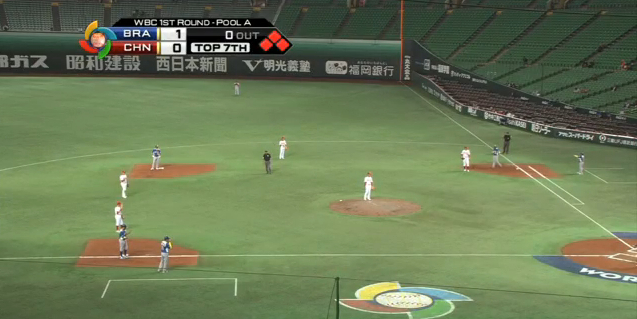 Not empty as in the paltry, announced attendance of 3,110. But really empty, as in 100 or 200 fans in the stands (separately reported by two people who were there).
And what a shame, because this game had all the elements:
-China's all-American hero Ray Chang (who is, in fact, actually American)
-a 'villain' of sorts in the form of fearsome Team China Baseball head honcho Madame Shen, who rules with an iron fist (more on her later)
-and a winner-takes-all prize of automatic qualification for the 2017 World Baseball Classic
Let's back up a little…
China's World Baseball Classic history is not stellar, going 0-3 in 2006 and 1-2 in 2009. But that sole WBC victory in 2009 was a 4-1 win over Taiwan, in which Ray Chang (yup, the same Ray Chang, born in Kansas City, Missouri, to Chinese parents) homered and drove in two runs while going 3-4 at the plate.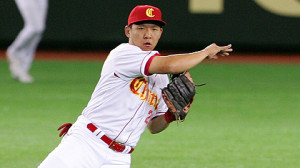 Fast forward to this year's tournament and Chang – a veteran of eight minor league seasons – is again the only player of note, after Panamanian pitcher Bruce Chen, whose grandparents are Chinese, failed to get clearance to represent China in time. (Seriously, where else does China embrace foreigners as their own as much as in baseball?).
The team is led by Shen Wei – the aforementioned Madame Shen – who reportedly comes from top grade military stock and was once described by former Red Sox pitcher Bruce Hurst as one of the toughest ladies he had ever met.
China's inexperienced roster lists 12 players aged 23 or younger, and "the kids" – as manager John McClaren calls them – found the going tough. Game 1 was a 5-2 loss to Japan. Game 2 was a 12-0 thrashing by Cuba, which was actually stopped halfway through the seventh inning because of the mercy rule (I'm not making that up).
They actually have a mercy rule in the World Baseball Classic. For adults.
Madame Shen, we assume, was not amused. But Brazil were also 0-2 going into the showdown with Team China, and a win for ether side would guarantee entry into the next WBC tournament.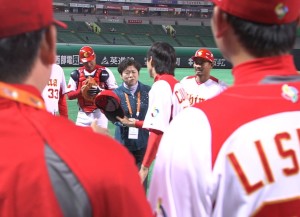 Tensions were running high beforehand. American TV had requested that Ray Chang, who speaks enough Mandarin to communicate with his teammates, be wired for sound to add an extra layer of excitement for the viewers. What followed was a full ten-minute debate in the clubhouse about whether China wanted to be "exposed" in this way, but, in the end, Madame Shen bowed down before the imperialists consented.
She was probably regretting that decision well into the game, with China 0-2 down going into the eighth inning. But a clutch two-run single from Chang put China 3-2 ahead, with three other walks also scoring for China in the eighth.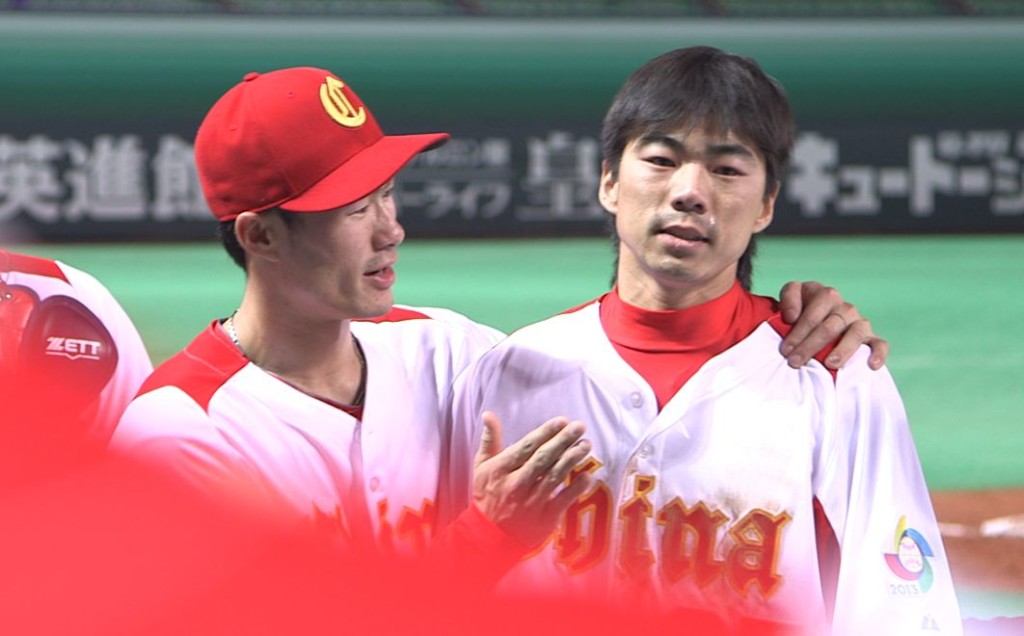 Lu Jiangang closed it out in the ninth and a tearful Cui Xiao addressed his teammates on the field afterwards.
More remarkably, though, Madame Shen cracked a smile.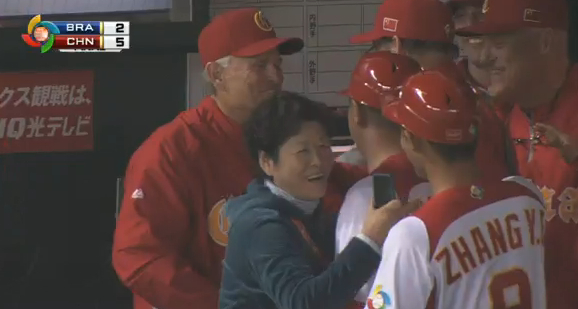 But for all the feel good factor emanating from this game, baseball's prospects in China remain far below those of football in the quest to be the next US sport (after basketball) to take hold in the world's most populous country.