Tucked away at the end of David Beckham's second of his three visits to China this year – and conspicuously absent from his stated itinerary, which included visits to Shanghai, Nanjing and Hangzhou, a photo session with some sick kids, a CSL game and a prime-time TV appearance on CCTV with wife Victoria – was this: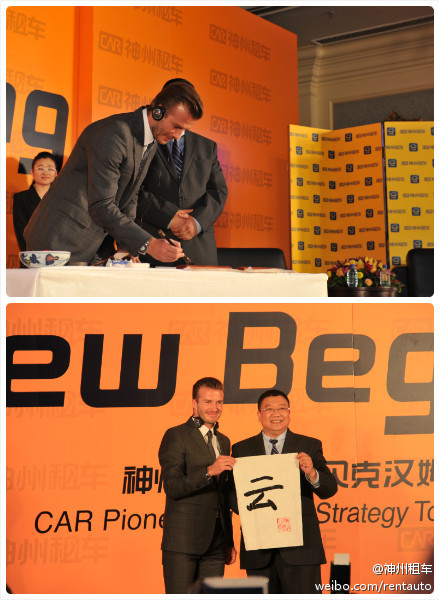 A Sunday morning appearance to sign a deal with China Auto Rental (CAR), one of the biggest car rental companies in China, and part-owned by Hertz. As I wrote after Beckham's first visit to China in March (which was pointedly all about the kids), "expect trips 2 and 3 to cash in on some significant earning opportunities."
And guess who brokered the deal? IMG, the company who brought him to China in the first place. Here's the second sentence of their shameless (is there another kind?) press release:
"This new partnership builds on the extraordinary commitment Beckham has made to developing and inspiring young Chinese to follow and play the sport of football."
Builds on it how exactly? Because Chinese soccer Moms and Dads can now drive their kids to practice in a flashy new rental car?
Terms of the deal have not been released, but I'm told that Beckham's price has tripled in recent years, with the going rate for Golden Balls somewhere in the $2-3 million/year range. It's not clear how long this deal will run, but the rambling release talks of CAR's future five-year plan of action.
IMG signed a 10-year deal with the CSL last year to help promote the league, then arranged for Beckham to come to China to promote the CSL. Now that IMG is helping Beckham make deals on the sidelines of their original CSL arrangement – and taking their cut of the proceeds – you have to wonder: was that the plan all along?