A little over a month ago, 17-year-old Chinese swimmer Ye Shiwen was in pieces. The reigning Olympic champion in both the 200 and 400 IM had failed to win a medal in either race at the World Championships in Barcelona, and Hungary's Katinka Hosszu had reclaimed her position as the medley queen.
But things are looking up for Ye. She won both events in Shenyang at the Chinese National Games, but more importantly her times were competitive: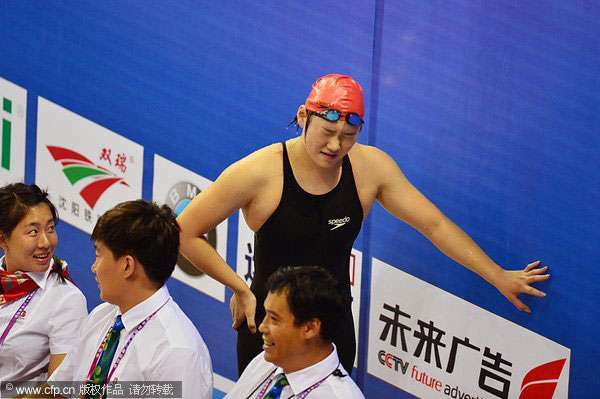 200 IM
2:07.57 (Olympic record), 2012 Olympics
2:10.48 (4th), 2013 World Championships
2:09.28 (1st), 2013 Chinese National Games
400 IM
4:28.43 (World record), 2012 Olympics
4:38.51 (7th), 2013 World Championships
4:31.59 (1st), 2013 Chinese National Games
While her times in Shenyang weren't as good as those she posted at last year's Olympics, they would have been good enough for second and third in the 200 and 400 IM respectively at this summer's World Championships. While she's not back to her very best, it's a little premature to write the teen off just yet.
So why was she so poor in Barcelona? Pressure. She arrived in London as a known quantity in the swimming world, having won the 200 IM world title in 2011, but largely as an unknown on the world's sporting stage. That all changed with her incredible swims in London, the doping allegations that followed and the ridiculous comparisons to Ryan Lochte. She admitted that, post-London, everything had changed, and that her weight had fluctuated wildly in the build-up to Barcelona.
The hope for Ye now is that these wins in Shenyang – expected as they were – will give her renewed hope that she can be on top of the world again. The Olympics and World Championships are a far cry from the relative safety of the Chinese National Games where she is the proverbial big fish in a small pond, but the clock doesn't lie and on current form she would at least have been challenging for medals on the world stage, if not titles.