Zhang Shuai has become just the fifth Chinese player to win a WTA singles title. Li Na has eight titles, Zheng Jie has four, Yan Zi and Sun Tiantian each have one, and now Zhang joins that elite group after a 7-6, 6-1 win over American Vania King in the final of the Guangzhou Open. Interestingly, Peng Shuai has never won a WTA singles title despite having been as high as 14 in the world rankings.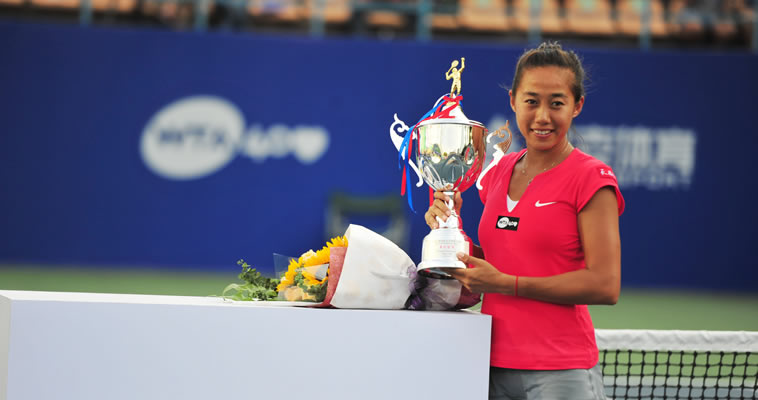 It may seem premature to make comparisons to China's most famous tennis star, but in a clear parallel to the "Fly Alone" initiative when Li Na, Zheng Jie, Peng Shuai and Yan Zi quit the state-controlled tennis system five years ago and forged out on their own, Zhang did exactly that just two months, when she hired her own coach Liu Shuo. Here's her take:
"I am experiencing a huge shift, not only in tennis, but in my whole life. Flying alone is not easy. I am enjoying happy moments, but also painful ones. In the past I was an employee, but now I am the boss. I am responsible for all the team expenses. I can only earn more when I win more."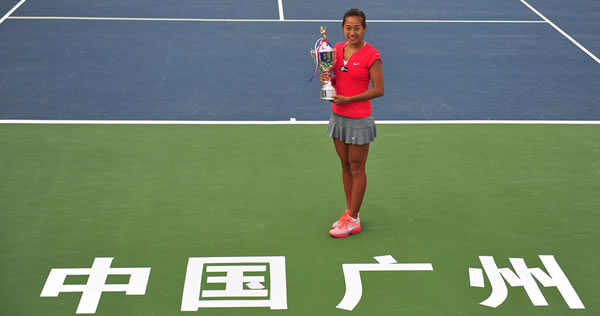 Well, so far the 24-year-old is off to a good start, banking $112,080 for her efforts this week, despite entering the tournament as a wildcard. She didn't lose a set all week and will now climb to 74 in the world rankings, realizing this blog's prediction that more Chinese players would break into the top 100 this year.
Perhaps unsurprisingly, Guangzhou has been a happy hunting ground for Chinese players since the inaugural tournament in 2004. Li Na won her first ever WTA singles title there that year, Yan Zi won her only WTA singles title there in 2005, and Zhang Shuai won the doubles title last year, before her singles victory this year.
The WTA official site has a nice quote from Zhang about how the power of self belief helped her win that maiden title:
"I saw the tournament listed out the nine champions in their history on the giant promotional ads at center court. I saw them every day when I was going to the practice court, since the first day I got here. I asked myself, 'Could I be one of them? Could I be the 10th champion here?' At that time, I didn't think it was possible, but I've beaten some of those nine champions before, and that gave me a lot of confidence. I've had many chances to win WTA titles before, but I just wasn't confident enough. All those days, every time I passed by that big poster, I told myself I wanted to be the 10th champion at the Guangzhou Open. Having faith is so powerful – it can really make your dream come true."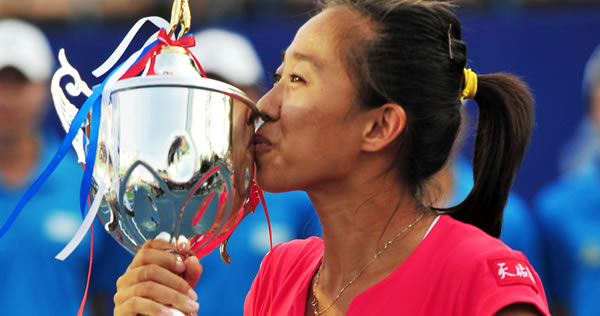 Zhang now needs to build on this, but will be ecstatic about making what must have been a very difficult decision to break free from the comforts of the state system. And as we've seen in other sports, the more your fellow countrymen and women start to win, the more it gives belief to others that they, too, can make the breakthrough.
Photo credits: Guangzhou Open