First it was David Beckham, now it's the entire English Premier League. After Becks made three visits to China this year to make money as a special ambassador for the Chinese Super League, a deal has been signed between the English Premier League and the Chinese Super League (CSL), to coincide with UK Prime Minister David Cameron's current trip to China.
Under the terms of the partnership, which was announced at an event in Beijing attended by Premier League chief executive Richard Scudamore and former England and Chelsea star Graeme Le Saux, the Premier League will help the CSL and the Chinese Football Association (CFA) on issues from match-day management and stadium operation to youth development and community engagement. In return, the CSL will provide assistance to the Premier League and its clubs in promotion and marketing in China, as well as staging matches and other business initiatives in the country (my emphasis).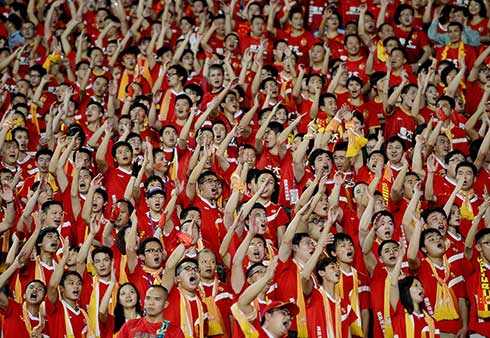 Apart from the obvious conflict of interest – why would CSL clubs want Chinese fans to devote their attentions to Arsenal and Liverpool instead of to their own teams? – the Premier League has staged plenty of matches in China in the past, but that ship appears to have sailed. English teams demand hefty sums to play in China, but promoters are unable to sell enough tickets at a high enough price to cover their costs. Chinese fans, understandably, have no interest in paying top dollar to see the Manchester United youth team and a couple of trialists going through the motions in pre-season, especially when the big stars are used to sell the tickets in the first place.
In more promising news, though, the Premier League and the British Council are extending their Premier Skills initiative for another three years, in partnership with the Chinese Ministry of Education. Launched in 2009, it has benefitted 200,000 Chinese kids so far, with a goal of reaching more than 1.2 million Chinese students by 2016. It will also help the CFA train 200 young referees over the next three years. The long-term hope must surely be finding another Chinese player good enough to play in the Premier League, which would pay back all this investment in spades in terms of sponsorship and related deals.
It certainly seems to be good news for Chinese soccer, but with the CSL having (hopefully) cleaned up its act in recent years, and players in England recently arrested for match-fixing, this tweet from ITV's China Correspondent Angus Walker seems apt:
You have to wonder what goes through Premier League chief exec Richard Scudamore's head every time he comes to China. With a decent broadcast deal on state-run national broadcaster CCTV, the Premier League could be significantly bigger than it is, but the EPL and CCTV are both used to dictating the terms of their business, and the relationship between the two broke down years ago. It also appears that the Premier League has changed tack from trying to squeeze every last drop out of its broadcast deals to reaching as many viewers as possible, as the NBA has done very successfully.
Scudamore locked up a six-year deal last year with Super Sports Media Group which runs until 2019, through which the agency can sub-licence matches to regional and IPTV broadcasters across the country. That sees several Premier League games broadcast on regional Beijing TV, Guangdong TV and others, while the rest are streamed online for free, but CCTV's grip on the TV industry in China is such that it can essentially make sure no other channel gets too many viewers.
The official UK government press release talks about the Premier League's East Asian market (typical defined as China, Hong Kong, Macau, Japan, both Koreas, Mongolia and Taiwan) already worth around £200 million a year, but as this chart from Sporting Intelligence shows, Hong Kong accounts for about 65% of that, while China is currently just a bit-part player:
Check out the £ per person column: Hong Kong's £17.78 ($29.10) compares with China's £0.02 ($0.03). Cracking the China market is a far, far harder prospect than simply turning up, but looking at those numbers it's easy to see why executives get giddy thinking about growth prospects here…