Guangzhou Evergrande's recent Asian Champions League victory gave Chinese soccer fans something to smile about again, even if the national team – comprised of many of those same Evergrande players – has yet to follow suit.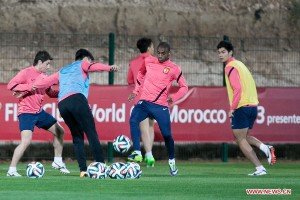 The ACL win gave Guangzhou entry into this year's FIFA Club World Cup – a tournament in which, essentially, the UEFA Champions League winners get another meaningless trophy. After a 2-0 win over Egyptian club Al-Ahly – the CAF Champions League winners – in the quarter-finals, Guangzhou was humbled 3-0 by Bayern Munich in the semis, before a late winner from Copa Libertadores winners Atletico Mineiro saw the Chinese champs lose 3-2 in the match for third place.
A respectable showing and, hopefully, the first of many. Following the tournament, FIFA Secretary-General Jerome Valcke told Chinese state-run news agency Xinhua that China should go back to basics and concentrate on grassroots soccer. For once, it was sound advice from an organization that is as corrupt as it is embarrassing, though implementation remains the tough part in China, as discussed in this week's Sports Talk column. Here's an extract:
The stumbling block, as ­always, is red tape, with ­soccer in China effectively run by government officials, despite FIFA's clear rules on government interference. Decisions are ­often made for short-term gain that would boost an ­official's chances of promotion, rather than actually improve the ­standard of the game over a generation or longer.

But all is not lost. Evergrande's stars come from overseas, but the core of the team is homegrown, and they will have gained valuable experience from the Club World Cup in Morocco, where the Chinese champions finished fourth.

Despite Evergrande's financial muscle, the team cannot be expected to dominate continental opposition the way it does at home, but any chance to mix it with the big boys can only help, as well as improve the standing of Chinese soccer around the world.