China had a record eight players in the singles draw for the Australian Open. Of the five who played on Day 1, there were wins for Li Na (vs 16-year-old Croatian Ana Konjuh) and Zheng Jie (vs 12th seed Roberta Vinci), while wildcard playoff winners Wu Di and Tang Haochen both lost, as did Zhang Shuai, who had ended 2013 so well.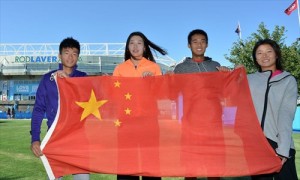 Day 2 sees Peng Shuai, Duan Yingying and Zhang Ze in action. Win or lose, Zhang will make history of sorts, as his match will mark the first time that TWO Chinese men have played in the same Grand Slam event in the Open Era. A win, though, would be truly groundbreaking: no Chinese man has ever won a Grand Slam singles match.
Here's an extract from this week's Sports Talk column:
Wu Di and Zhang Ze are the only Chinese men in the top 500 – by comparison the women have 20 – but their progress is drawing attention: somewhat bizarrely they were asked to pose with a python last week during a tournament press event.

If that wasn't scary enough, Wu's first-round opponent Frenchman Kenny de Schepper is a full 12 inches taller than him, but if either Wu or Zhang can win a match, it would take the men's game in China, slowly but surely, to the next level.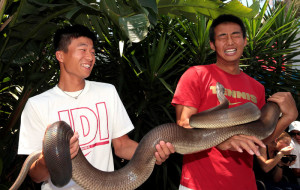 Wu Di didn't embarrass himself on Monday in his 5-7, 5-7, 6-7 defeat to 6'8″ de Schepper, but after winning a set on his Grand Slam debut last year he will be disappointed not to progress this time – especially after his opponent gifted him a tournament-high 13 double faults.
Li Na looked strong in her 6-2, 6-0 win and said afterwards she felt good. She faces another 16-year-old, Belinda Bencic, in the second round, but will already have one eye on a potential semi-final match-up with Serena Williams. Some usually grounded pundits have already called Williams a certainty to win and it's hard to bet against her at the moment.