Wang Meng, China's most decorated Winter Olympian (4G, 1S, 1B), is out of the 2014 Olympics in Sochi after fracturing her ankle on Thursday. The short track speed skater won three of China's five gold medals at the Vancouver Olympics in 2010 (500m, 1000m, 3000m relay), which won her CCTV's Sports Personality of the Year award, and she was hotly tipped to add to that tally in Sochi.

But doctors at Huashan Hospital in Shanghai found tibia and fibula fractures in her right ankle after she collided with an unnamed teammate in training, leaving the 28-year-old needing, according to Xinhua, "an internal fixation surgery", which basically means putting metal inside her leg. Reports say her expected recovery time could be anywhere from six weeks to three months; the Games start in just over three weeks.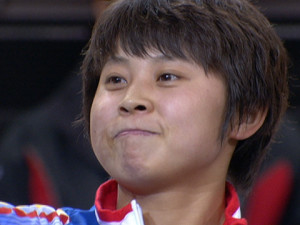 In addition to her three titles in Vancouver, she also won the 500m gold, the 1000m silver and the 1,500 bronze at the Turin Winter Olympics in 2006. Aside from seriously denting China's medal hopes for Sochi, the gossip mags will also be denied the chance for another chapter in Wang's constantly entertaining off-ice activity. Some highlights include: 
Drunken brawl with team manager, smashed up her room, injuring her hand (2011)

Drunken incidents with security guards in Yunnan (also 2011)

Dropped from national team for criticizing a coach's tactics at the Asian Winter Games (2007)
She will be missed.