I wrote last week about speed skater Wang Meng breaking her ankle after she crashed into an as-yet-unnamed male teammate, putting a serious dent into China's Olympic hopes. Some people have pointed out to me since that China doesn't exactly need much sympathy when it comes to the Olympics – their last six medal tables have seen them finish 4th, 4th, 3rd, 2nd, 1st, 2nd.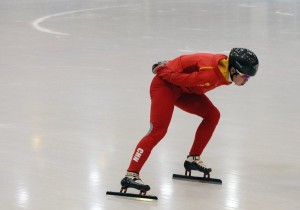 But that is the Summer Games, and the Winter Games is a different story, with medal table finishes of 15th, 19th, 16th, 13th, 14th and 7th over the past six editions. Wang Meng's six  medals over the past two Winter Olympic Games have been a huge contribution to her country, but her expected absence now opens the door for others. Here is an extract from this week's Sports Talk column:
First, and most obviously, the 500-meter race has been thrown wide open by Wang's absence. Of the Chinese squad, 20-year-old Fan Kexin is the most likely to step up. The 500-meter specialist finished second behind Wang in this season's overall World Cup standings in the distance and was the 2012 world champion.

Secondly, the Chinese team now needs a new leader. Wang has a long history of controversy off the ice – alcohol has appeared to be a catalyst on more than one occasion – but having won six Olympic medals, she has led by example on it.

With Wang gone, someone now needs to spearhead China's medal charge – and it will be fascinating to see who accepts the challenge.