With several high prominent western leaders boycotting the Sochi Olympics, it was of even more importance to Russia and the IOC that Chinese President Xi Jinping attended the opening ceremony. In an official press release about the first ever IOC President's dinner, Xi was mentioned in the same breath as Russian President Vladimir Putin, UN Secretary-General Ban Ki-moon and Karolos Papoulias, President of Greece (home of the Olympics). All other attendees were listed further down the release, showing the importance of Xi's presence.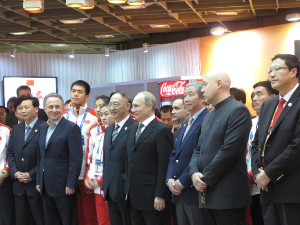 Putin returned the favor on Monday evening when he visited China House, one of the many venues set up by the Olympic Committees of various nations and typically designed for use by athletes and special guests. Putin said Xi had asked him to pay special attention to the Chinese athletes in Sochi, saying:
"I believe the Chinese athletes will perform well. At least they will have good time here. I know the Chinese athletes are very hard working. I wish you success."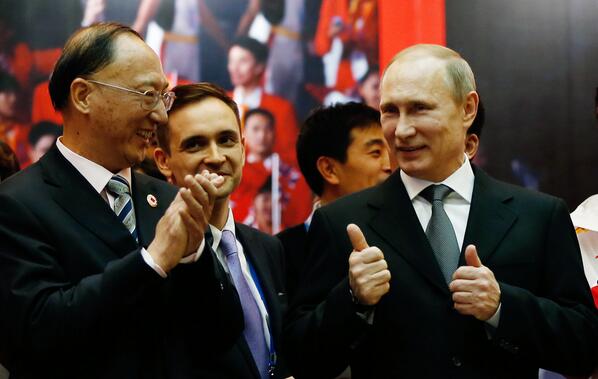 Liu Peng, director of China's State General Administration of Sport and chef-de-mission of the Chinese delegation, spoke to Putin about China's bid for the 2022 Winter Olympic Games slated to held jointly in Beijing and Zhangjiakou. Putin again:
"The whole world knows that China is making great efforts in the development of sports and President Xi attached great importance to it. I believe China's winter sports will achieve good results as well."
Interesting to see Putin's view on sports and their importance to China, even if it is just part of the usual officialese offered at these events. According to Xinhua, Xi's very presence at the Sochi Games has "garnered backing from Russia and other parties."
Meanwhile, Chen Lu, China's figure skating women's singles world champion from 1995 and two-time Olympic bronze medalist (singles 1994, 1998) had this to say about her meeting with Putin:
"I shook hands with him. I felt excited. He is a nice man."
He's still got it.