Day 3 review
As predicted, things got better for China on Monday Feb 10. Much better.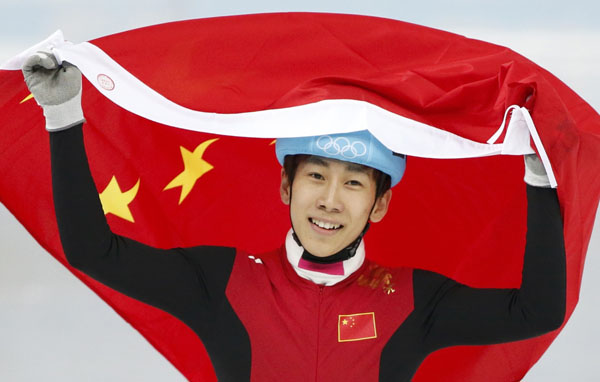 Han Tianyu – previously tipped in these pages – won China's first medal: a silver in the men's 1,500 m short track speed skating. Canadian favorite Charles Hamelin won but the 17-year-old Han edged out Russian (and former Korean) star Victor An by seven 1/1000ths of a second for the silver medal, and got the nod only after a photo-finish review. It's the first short track medal by a Chinese male for eight years, and Han was joined in the final by 18-year-old Chen Dequan, who finished 5th, fractionally behind US hope J.R. Celski. Han will have further chances to win more medals when he races in the 1,000 m – arguably his strongest event.
In the women's 500 m heats, the Chinese trio of Fan Kexin, Liu Qiuhong and Li Jianrou recorded three of the five fastest times of the days and all progressed through to the quarterfinals on Thursday evening, when the semifinals and final will also take place.
Those three then combined with Zhou Yang to win their semifinal heat in the 3,000 m relay. South Korea won the other semi, and though the final isn't until Feb 18, expect fireworks when it takes place: four years ago, the Korean team crossed in first place, but were disqualified – following a delayed Chinese protest – for impeding a Chinese skater. It handed the gold to China, who would then go on to win all the women's short track events. Zhou Yang – the skater chastised by IOC vice president Yu Zaiqing in Vancouver for not thanking her country – is the sole surviving member of that Chinese squad, while two of the Korean team remain. Canada and Italy will also feature in the final.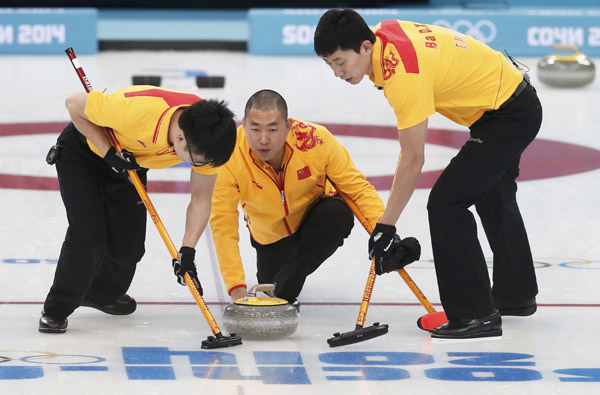 In curling, China's women lost 9-2 to a strong Canadian side, but there is still plenty of time for them to turn it around. Better news came from the men's competition, where China, led by skip Liu Rui (above, middle), beat Denmark 7-4 – a good start for the team that finished 8th in Vancouver.
And in (long track) speed skating, Mu Zhongsheng and Bai Qiuming placed 30th and 35th respectively in the men's 500 m, where the Dutch engineered another clean sweep of the medals.
Day 4 preview
More medals could follow on Day 4, as Wang Beixing lines up in the long track speed skating 500 m, alongside Qi Shuai, Zhang Hong and Zhang Shuang.
In figure skating, reigning silver medalists Tong Jian and Pang Qing will perform their short program in the pairs competition.
The curling men (1-0) face USA (0-1) as the round-robin competition continues, while the women (0-1) face Russia (1-0).

Zhang Yiwei (right) came second at the Winter Games NZ in 2011.

Chinese athletes are also in action in cross-country, biathlon and halfpipe, where snowboarder Zhang Yiwei – 7th at this year's X Games – has the best chances. Qualification starts at 6pm China time, with the semis and final later in the night.