Day 4 review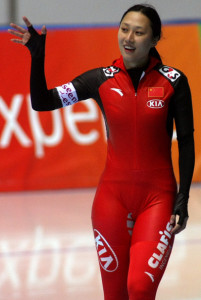 Tuesday February 11 was a solid – but ultimately disappointing – day for China. Speed skater Zhang Hong (pictured left) pulled out the performance of the day in the first run of the women's 2 x 500 m. Her time of 37.58 was a new track record at the time, though two competitors later went faster, placing Zhang in bronze medal position at the half way point. Her second race was considerably slower at 37.99 for a 4th place finish – 0.1 seconds out of bronze – but she'll have another chance in the 1,000 m.
Teammate Wang Beixing, who won bronze in Vancouver, was far more consistent (37.82 & 37.86) and finished 7th, a further 0.1 seconds behind Zhang, while Qi Shuai and Zhang Shuang were 23rd and 31st respectively.
The men's halfpipe was all about Shaun White NOT winning a medal, as Swiss rider Iouri "iPod" Podladtchikov took gold ahead of a couple of Japanese teenagers. But Chinese riders Zhang Yiwei and Shi Wancheng performed well to place 6th and 7th respectively.
In figure skating, the two Chinese teams in the pairs competition currently stand in 4th and 7th after the short program. 2010 silver medalists Pang Qing and Tong Jian (pictured above) scored 73.30, and are less than two points behind the second Russian team in 3rd. Peng Cheng and Zhang Hao – at 16 and 29 the couple with the greatest age gap in the competition – continued their good form from the team competition to score 70.59 to sit 7th in a very tight pack. As per the form book, the Russians Volosozhar and Trankov are leading, followed by the Germans Savchenko and Szolkowy, but the bronze medal is still up for grabs. The free program is tonight (see below).
Curling saw wins for both China's men's and women's team: Betty Wang Bingyu led the ladies to a comeback 7-5 win over Russia, while the men led from the front in a 9-4 win over USA.
Rounding out the day, biathletes Tang Jialin and Zhang Yan finished 50th and 53rd respectively out of 57 starters in the women's 10 km pursuit, while in cross-country Sun Qinghai came home a creditable 28th out of 86 in the men's sprint free event (Xu Wenlong did not finish) and Man Dandan and Li Hongxue were =32nd and 51st respectively in the corresponding women's event.
Day 5 preview
China's best medal hopes come in the figure skating, where the free program completes the pairs competition. 34-year-old veterans Pang and Tong will give it everything in their Olympic swansong to move up into the medals, and it is possible: they set a world record with their free program four years ago to win silver.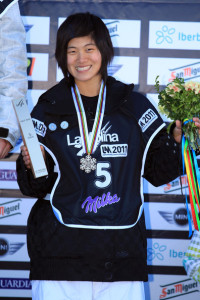 Elsewhere, former martial artist Liu Jiayu (4th in 2010, pictured right) will lead a quartet of Chinese women in the snowboard halfpipe. It's a strong field, but as the men showed on Tuesday, it doesn't always go to form, giving China an outside chance of a medal.
Curling continues with the men (2-0) taking on first Switzerland (1-1) and then Germany (0-2), while the women (1-1) face USA (0-3). Speed skater also Tian Guojun competes in the men's 1,000 m, but don't hold your breath.
Finally, here's a CCTV interview with the coach of Han Tianyu, who won a silver medal on Monday. The 17-year-old's "calm mentality" is what impresses his coach the most, but it's worth a look for the pink penguin(?) coat worn by reporter Tracey Holmes: