Well that was unexpected.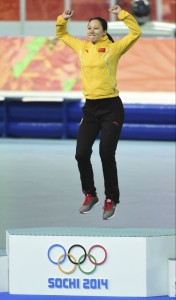 China won the 500 m women's short track title for the fourth consecutive time – but no one would have guessed that Li Jianrou would be the one to do it – and then Zhang Hong (left) won China's first ever (long track) speed skating Olympic title in an even more stunning result. It was also the first time China has won two gold medals on the same day at a Winter Olympics.
Everything else pales by comparison, but elsewhere on Thursday February 13th, Han Tianyu and Wu Dajing made it into the quarterfinals of the men's 1,000 m short track, while the 5,000 m men's relay squad qualified for the five-team final (on Feb 22). Yan Han is 8th in men's figure skating going into tonight's free program in a very tight field.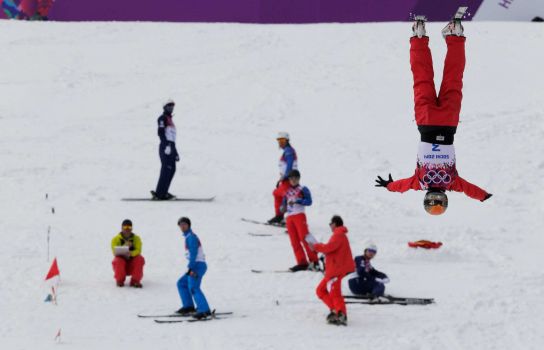 But the big one to watch today is women's aerials. The Chinese quartet of Xu Mengtao (above), Zhang Xin, Cheng Shuang and Li Nina all have medal chances and could sweep the podium. It's a big ask, but it would be extremely surprising if China does not add to its medal count (now 8th in the table) on Valentine's Day. There's a good AP primer here (despite the writer not knowing that Chinese surnames come first – Ming Yao anyone?). Qualification starts at 2145 China time, with the three-round final getting underway at 0130 and lasting around an hour.
In curling, China has become the surprise of the men's competition with a 4-0 record. After a rest day yesterday, they face Sweden (4-1) and Norway (3-1) in two huge match-ups today. The women, who had been touted as medal contenders, stand at 2-2 after a narrow loss to Great Britain on Day 6 and take on South Korea (2-2) this afternoon. A win would do wonders for their qualification prospects, with China one of 5+ teams looking to squeeze into the final two playoff spots.