Medal count
3G, 2S, 0B – 9th place overall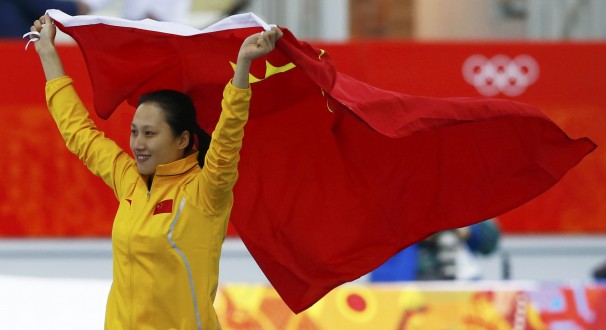 Day 9 review
Sunday February 16 was a quiet one for China with Chinese athletes well down the standings in figure skating and (long track) speed skating), and one curling game that went down to the wire.
Unfortunately, Liu Rui and his team were edged out 9-8 by Canada in the first extra end. China had been up 6-3 at one point, but had to score 2 points in the 10th end to keep the match alive. The result meant Canada (7-2) moved past China (6-2) in the standings and qualified for the play-off round, but all is not lost for the men (see below).
Day 10 review
Arguably China's best remaining shot at gold in Sochi comes on Monday evening in the men's aerials. The women fell short on Friday with Xu Mengtao grabbing the fourth Olympic silver medal China has won in the women's aerials over the years. The men, however, will seek to emulate Han Xiaopeng's gold from 2006.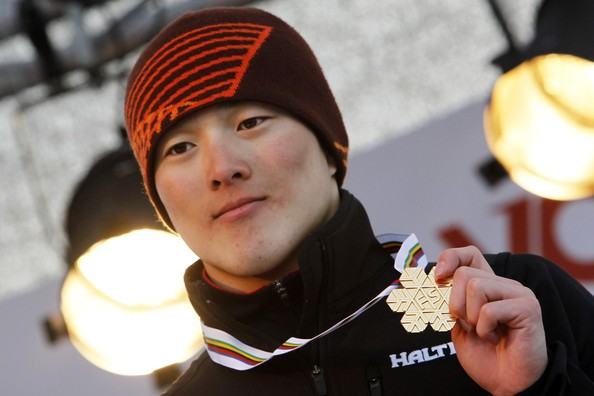 Four of the 21 competitors are Chinese:
Qi Guangpu (pictured above), 23, 1st at 2013 World Championships, 7th at 2010 Olympic Games
Jia Zongyang, 22, 3rd at 2013 world championships, 6th at 2010 Olympic Games
Liu Zhongqing, 28, 3rd at 2010 Olympic Games, 4th at 2013 World Championships
Wu Chao, 26, 8th at 2013 World Championships
In short, it's a pretty strong quartet, but, as in the women's event, Belarus – who also have four athletes – will provide the main competition. The scoring system resets the points after each round, so the key is jumping consistently enough to make the final six – and then nailing your last jump. Qualification starts at 2145 China time (round two, if necessary, is at 2230), then the three rounds of the final begin at 0130.
Elsewhere, China's male curlers are third in the 10-team table and play their final round-robin match today . With Sweden and Canada having already qualified for the semifinals, here's how it looks:
3. China (W6-L2)
=4. Great Britain (W5-L3)
=4. Norway (W5-L3)
A win today vs Great Britain would see China qualify automatically, while a loss would still see them go through if Norway's men – they of trouser fame – lose to Denmark. If China loses to GB and Norway wins, a play-off system will decide who advances. There's a nice piece from the Canadian Press on China's coach Marcel Rocque, who was finally worn down by Chinese officials trying to recruit him:
"On several occasions I said I was flattered, but didn't think it would work," Rocque recalls. "They kept coming."
Rocque's 10-month contract sees him through to April when Beijing hosts the men's world curling championship. Meanwhile, the women are in a similar situation to the men in Sochi, with Sweden and Canada having also already advanced from the round-robin format: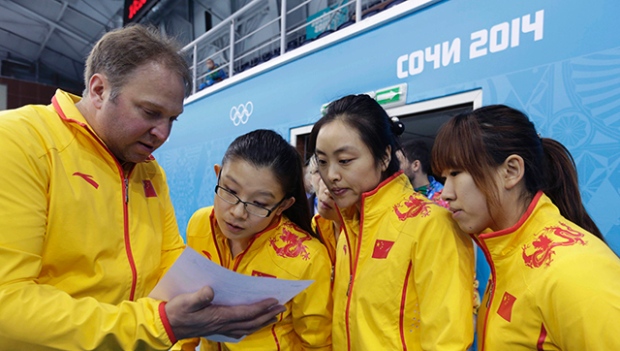 =3. China (W4-L3)
=3. Great Britain (W4-L3)
5. Switzerland (W5-L3)
6. Japan (W3-L4)
Each team has two games left to play, with the exception of Switzerland which has one. China faces Japan in the morning session and Switzerland in the evening. It's complicated, but China could still be in a play-off even if it loses both games, depending on other results.
Finally today's Sports Talk column takes a look at what it means to be truly Olympian. Here's an extract:
[China's] Olympic program has long centered on the quest for gold, and the National Games provide ample examples of officials doing anything to win. The lengthy Olympic Charter … certainly doesn't sound like winning is very important, despite the fact that the Olympic Games clearly seeks to bring the best together to find an ultimate winner. But winning is just one part: It's how you win that's important.

China's Olympic champions in Sochi have been exemplary. Despite Chinese TV commentators delighting in a crash that wiped out most of the field in the women's short track 500 m final, the beneficiary, China's Li Jianrou, was – in sharp contrast to the broadcasters – gracious in victory and credited others for her success.