[UPDATE: Did the Koreans do exactly the same as the Chinese but get away with it?
Canada's head coach says yes…
]
Following the controversial women's short track 3,000 m relay final four years ago in Vancouver in which the Korean team crossed the line first, but were disqualified after a Chinese protest – giving China the gold – the rematch took place yesterday and it certainly lived up to the hype. Here are the highlights: 
Korean team false starts – one more and they're out
Re-start is clean, Korea in front
China takes the lead with 16 (of 27) laps to go
Korea regains leads with 7 laps to go
China regains lead with 3 laps to go
Korean skater Shim Suk-hee passes China's Li Jianrou heading into the final turn
Korea crosses line in 1st, followed by China, then Canada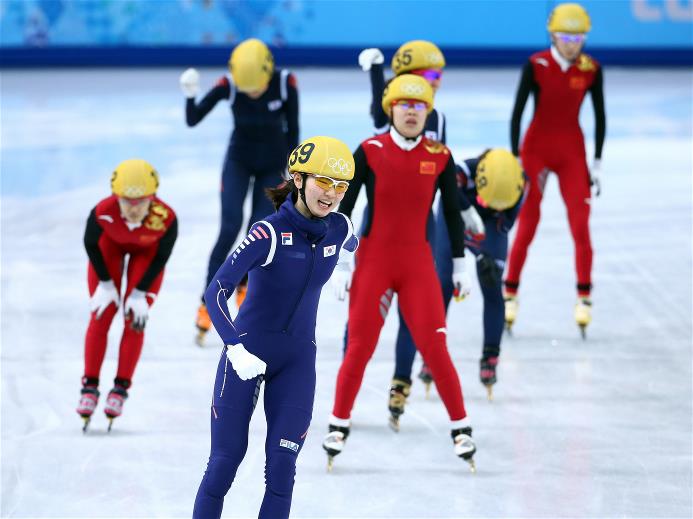 But the drama didn't stop there. After several minutes of studying the footage, officials penalized China after adjudging that Zhou Yang had impeded a Korean skater earlier on the final lap after making an exchange and hadn't cleared her lane quickly enough. That gave Canada the silver and Italy – who had earlier crashed – an unlikely bronze.
Needless to say, the Chinese team wasn't happy. Here's three-time Olympic champion Zhou Yang:
"I don't know why we got the penalty."
Her coach, Li Yan, agreed:
"According to the judges, when Zhou exchanged, she was on the track and impeded skaters behind her. But according to what I saw, there were two to three meters between her and the Korean skater and a skater is allowed to go on to the track when they exchange."
However, it later turned out that the Chinese team only had themselves to blame. The coach admitted that they had been in disarray on the final lap, and that Fan Kexin, the team's best sprinter, was supposed to have skated the final lap. But when Fan wasn't ready, an unprepared Li Jianrou had to complete the race and was then passed by Shim.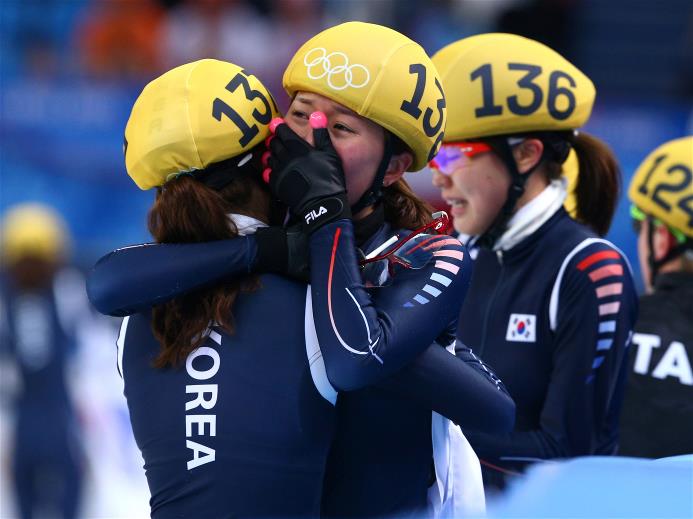 Whether that would have made a difference to the final result will be much discussed, but, for now, both teams will be waking up with diametrically opposite emotions to the ones felt four years ago. Korean skater Park Seung-hi had this to say afterwards:
"As for the Chinese athletes, they worked very hard in their training. I really feel for them. They will have another opportunity in four years' time. I hope we'll be competing against them in four years."
Fearless prediction: the Chinese media won't be replaying the post-race reactions quite as much as they did after the 2010 final.