Tuesday night saw the much hyped re-match between China and Korea in the women's short track speed skating relay. In summary, they battled back and forth with the lead changing hands several times, before Korea crossed the line first, with China in second – then the Chinese team were deprived of their silver after a penalty for impeding another skater.
But it now emerges that the Koreans might have been doing exactly the same as the Chinese.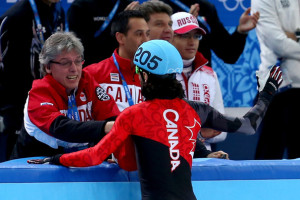 According to well-known Canadian sports columnist Bruce Arthur, Canadian short track head coach Yves Hamelin – father of three-time gold medalist Charles – said that the incident which resulted in China's penalty was not a one-off, nor was it limited to the Chinese team.
"During the race China was leaving skaters in their lanes after push-exchanges, which is illegal; they were disqualified. Yves said the Koreans did the same, but got away with it."
As explained in this post, China only has itself to blame for losing the race after mixing up its final changes and there is no suggestion that Shim Suk-hee's final lap pass of China's Li Jianrou was anything but fair, but this would at least have given China a silver medal if they were treated the same as the Koreans – or given Canada a gold if the rule was applied consistently.
Let the debate begin.