Hong Kong businessman Carson Yeung Ka-sing, the Birmingham City owner, has been a very naughty boy. Here's the summary: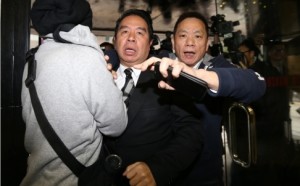 Between 2001 and 2007 Yeung and his father reported no income but HK$721 million (US$ 93 million) somehow found its way into their five bank accounts. Yeung said he made some money working as a hairdresser to HK's rich and famous, and then invested and gambled his way to riches (while keeping little or no documentation of any transactions). After a 53-day trial, the judge concluded Yeung was a liar and a money launderer, mixed up with triad bosses and other lovely people.
Sentencing is due for Friday, with a prison sentence of up to seven years expected [UPDATE: Yeung got six years behind bars], but where does that leave Birmingham? Still in the sh!t, according to the Guardian's David Conn. That's because Yeung basically still controls the club.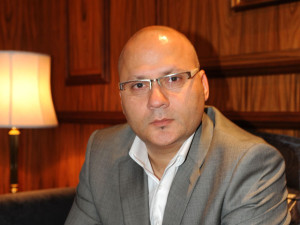 His long-time associate, Peter Pannu – amazingly a former policeman and barrister from Hong Kong, who I'm sure had absolutely no idea about Yeung's dodgy dealings (honest guv) – is still a director (picking up £1m/year for his troubles), as are Yeung's son, brother-in-law and future brother-in law, who all joined the board last month when Yeung resigned.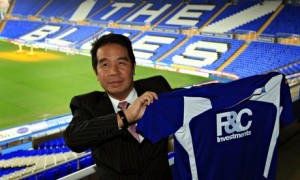 Hong Kong authorities will be keen to recoup what they can from Yeung and Birmingham City accounts state the club owes him repayment of a £15m loan "advanced without formal documentation" with "no written terms for interest and the term of repayment." Yeung wants to write off the loan and retain a 28% share of the club – which would keep him as the largest shareholder but also under the 30% limit needed to be a "fit and proper owner" – but the HK authorities, who have frozen all Yeung's assets, may have other ideas.
The club has several other Chinese connections, including:
Guangzhou-based real estate investor Liu Xingcheng, 2nd largest shareholder in club (14%), also brother-in-law of Carson's ex-girlfriend (you couldn't make this up…)

Former club chairman Vico Hui, who was held responsible for a deal with Chinese clothing brand Xtep that went south due to copyright infringements, still owns 4% of the club
Yang Yuezhou, another Guangdong property developer, who is currently looking to lend money to BIH, the club's parent company, for a third time
Bloomberg has more on Yeung's web of contacts here.
It all sounds pretty grim for the fans, but there is still some hope: if HK authorities do take Yeung's share of the club, they would likely put it up for sale, allowing fans a chance to purchase part of the club and set up a Trust. Many of those fans are now complaining about how the club was sold to Yeung in the first place, but as former owner David Gold told the Birmingham Mail:
"I have been trying to remember the percentage of your readers in a survey that wanted us to sell to the Chinese. Was it 86 per cent?"
Meanwhile, Pannu is insisting everything is fine:
"I'd like to reassure all supporters and staff that today's verdict will have no impact on the day-to-day operations at the football club."
Nothing to see here, move along.