Paralympic action starts today in Sochi with China's 10-strong contingent looking to claim the country's first ever Winter Paralympic medal. Five of the 10 form the curling team, which finished third at the World Championships in both 2012 and 2013, so a medal is a definite possibility. The other five are cross-country skiers: no red hot favorites, but results have been improving and a podium finish is not out of the question.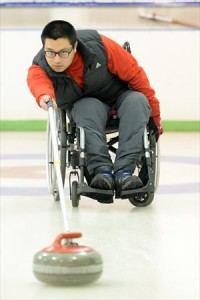 The IPC has made a big deal out of how this will be the biggest Paralympic Games ever, and often mentions how CCTV in China is one of the broadcasters – implying, of course, that a significant proportion of 1.3 billion people will be tuning in.
In reality, viewing numbers will be microscopic, with CCTV showing only highlights very late at night, but Olympic interest in China was pretty impressive. According to Pierre Justo, who monitors these things as the Regional Managing Director Asia of CSM-KantarSport, CCTV aired over 400 hours across its network of channels, reaching 655 million people, of which 211 million watched at least 15 minutes at a time (i.e. took at least some sort of interest, rather than just flicked on by). That's well down on London in 2012, but pretty good for a Winter Games, especially given China's relative lack of success in winter sports.
Two stats stand out:
The men's 1,000 m short track final, in which China failed to win a medal (but placed 4th and 5th) was the most watched event in China with an average of 21 m – better than the top event from Vancouver 2010 (men's 500 m final, 15.6 m), and not far off 2013's top rated event (Asian Champions League final, 2nd leg, Guangzhou Evergrande vs FC Seoul, 23 m)
41% of viewers for the Sochi Olympics were women, compared with 34% on average for sports programs
Lots of food for thought for the sponsors. The most popular events at both Vancouver and Sochi were men's finals, even though China's women are far superior at short track. Scheduling, of course, plays a huge role, with the men's 1,000 m final on Feb 15 in Sochi airing at 8.20 pm on a Saturday night in China (coming about 15 minutes after Zhou Yang's gold medal-winning performance in the women's 1,500 m final). In Vancouver, the top event aired on Saturday late morning, one of the few times during the Games when Chinese would have been at home, given the time difference. 
Three-quarters of Chinese viewers for Sochi were aged 35 years old or older, but these numbers are for TV only and China is arguably leading the way in terms of mobile-watching trends, especially among the young.
In addition, given that Chinese viewers of Winter Olympics are highly concentrated in the north and north-east (Beijing, Shenyang, Changchun and Harbin), regional numbers for short track events would have far outweighed last year's ACL final, for example.