The Chinese Super League season kicked off this past weekend, and goals were few and far between. Ominously, though, the top of the table is already occupied by Guangzhou Evergrande…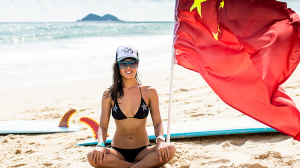 That's Online (also in the print versions) has a nice profile of Darci Liu, China's first and so far only female professional surfer, who, amazingly, only learnt to swim at the age of 18: 
"I think surfing, and the surf culture that comes with it, can be a very positive thing for China," [Liu] says. "Being in such close contact with nature makes you realize how lucky you are. It makes you appreciate things and have a brighter attitude towards life. When you're riding a wave you think different, you act different. Surfing gives your brain a spin."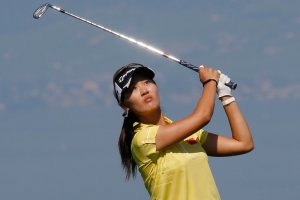 No surprises in golf: on the Ladies European Tour, world number 1 Park In-bee won the World Ladies Championship at Mission Hills, Hainan, by five shots. Park then paired up with Ryu So-yeon to win the team competition by a staggering 28 shots. China's top team of Feng Shanshan and Lin Xiyu (pictured) finished second. 18-year-old Lin, incidentally, joined Feng in the IMG China Golf stable last week. Having turned pro in 2011, she earned a full card for this year's LPGA Tour in the US through qualifying and looks a very good prospect indeed.
In tennis, number 1 seed Li Na beat Zheng Jie 6-1, 7-5 at the BNP Paribas Open in Indian Wells to progress to the third round. Next up is Karolina Pliskova. Meanwhile in doubles, world number 1 Peng Shuai and partner Hsieh Su-wei have won both their matches 6-1, 6-2 and are through to the quarter-finals.
No Paralympic links to be found, at least not when it comes to China, except this week's Sports Talk column addressing that very issue:
For a country that held a Paralympic Games as recently as 2008 and wants to do so again in 2022, China should at least pretend it cares.

Sadly the media are no better than the politicians. CCTV has the luxury of not having to chase ratings, but having been awarded the rights to broadcast the Paralympic Games, it can do better than showing brief highlights very late at night.

At a time when the world's most famous Paralympian, Oscar Pistorius, is attracting attention for all the wrong reasons, the Paralympic movement needs help now more than ever.
For the record, China's wheelchair curlers are 1-2, with another two games today, while the cross-country skiing contingent all compete today.