New Zealand Prime Minister John Key has long been a fan of sports diplomacy, having taken international rugby and cricket players with him on previous trips around the Asia-Pacific region. On his current trip to China, rugby was once again at the fore.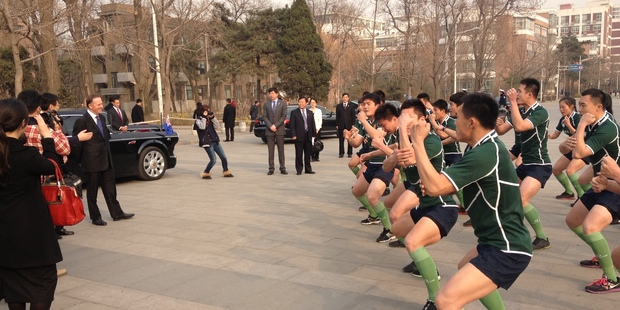 After being treated to a rendition of the haka – the famous warlike dance performed by Pacific rugby players before each match – by students at the China Agricultural University, he swapped jerseys with University President Ke Bingsheng and said the All Blacks should visit China:
"It's the same thing we see happen in a number of other countries, they play exhibition games and I know the Rugby Football Union have thought and are thinking a lot about this market."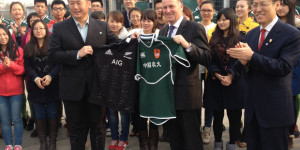 He also invited the Chinese students to travel to New Zealand to play New Zealand universities:
"I think those guys were good. They were big and strong and young and fit."
And then there was the golf game…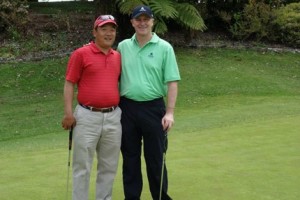 Pictured here with John Key is Stone Shi, chairman of Oravida, a company established in 2011 that exports milk and other food products to China and elsewhere. It's a story that's been grabbing headlines in New Zealand. Here's why:
Shi paid NZ $56,600 (US $48,300) for a round of golf with Key in what Key called a "charity auction", but turned out to be a political fundraiser
Oravida executives had a series of dinners with NZ Justice Minister Judith Collins last year on her trip to China, one of which included Shi and a senior Chinese official
Collins refuses to say who paid for the dinner(s)
Collins' husband David Wong-Tung is an Oravida director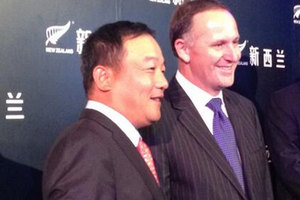 Shi – a "proud Kiwi" who speaks "limited English" – was pictured again with Key this week at a function. No golf was played this time, but it's now emerged that Key and Shi played a second time (very entertaining video report by 3NewsNZ's Patrick Gower here).
Who said sports and politics don't mix?