Wednesday's Asian Cup draw paired China with Uzbekistan, Saudi Arabia and North Korea. Given those countries' reputations, expect global headlines about a literal Group of Death:
China

– estimated to execute far more people than the rest of the world combined

Saudi Arabia

– no. 4 in the global list with 79 executions in 2013

Uzbekistan

– has what the IHF called a "wide-scale violation of virtually all basic human rights", with the current government blamed for massacring hundreds in 2005.

North Korea

– need I say more?
That said, on the soccer side of things, it's a good draw for China.
Group A: Australia, South Korea, Oman, Kuwait
Group B: Uzbekistan, Saudi Arabia, China, North Korea
Group C: Iraq, UAE, Qatar, Bahrain
Group D: Japan, Jordan, Iraq, 2014 AFC Challenge Cup winners
Uzbekistan were arguably the weakest of the top teams grouped in the first pot with Iran and Japan – who together have won seven Asian Cup titles – and hosts Australia. In nine games against the Uzbeks, China has won three, lost five and drawn one.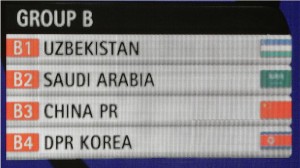 It was also key that China avoided South Korea, whose late slide in the FIFA rankings meant they were only grouped with the second-best set of teams. Saudi Arabia has the lowest ranking of the four teams in that second pot, but the Saudis always raise their game at the Asian Cup: the team has reached six of the previous eight Asian Cup finals, winning three titles. In addition, China has failed to beat Saudi Arabia in its last five attempts, including two games last year as the Saudis topped China's Asian Cup qualifying group.
Lastly, North Korea (the only team not to attend the draw) was not the opponent China would have preferred from the fourth and final pot of teams, but with a FIFA ranking of 133 – 35 spots below China – the Koreans will not be the team that Alain Perrin fears the most.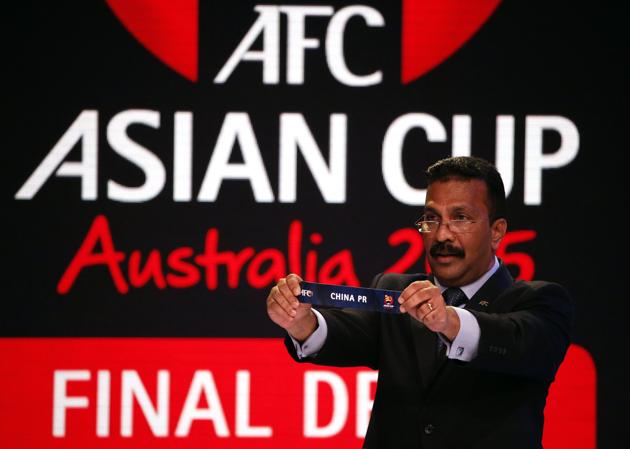 Only the top two teams will qualify for the quarterfinals (where Australia or South Korea would likely await) and China's new coach has his work cut out, not because the draw was an unfavorable one, but because China are simply not very good. Here is Perrin's reaction:
"We are expecting a lot of fans in Australia to support the team. It will be a little bit like playing at home. The first game is the most important as we play Saudi Arabia in the first game [on January 10] – it will be the most challenging. It's important to have a good start and to create a good spirit and maybe the spirit of the team can make the difference."
If Perrin is relying on China's team spirit, god help him. He was brought in partly because of his experience in west Asia and must now use that to get a result against at least one of Saudi Arabia and Uzbekistan, and in the summer heat of Brisbane, that won't be easy. It's a good draw for China, but objective observers would still not bet on them to qualify.