Snooker may not be everybody's cup of tea, but it's perhaps the best example of the Chinese taking over a sport in a short space of time. Since Ding Junhui won his first China Open title in 2005 as an 18-year-old (he added his second on Sunday), the sport has grown so much here that there are now 13 Chinese in the world's top 100 players, and five of the season's 11 full ranking tournaments now take place in China. In TV viewing terms, it's now firmly established in the second tier of sports (with basketball and soccer the only true Tier 1 occupants).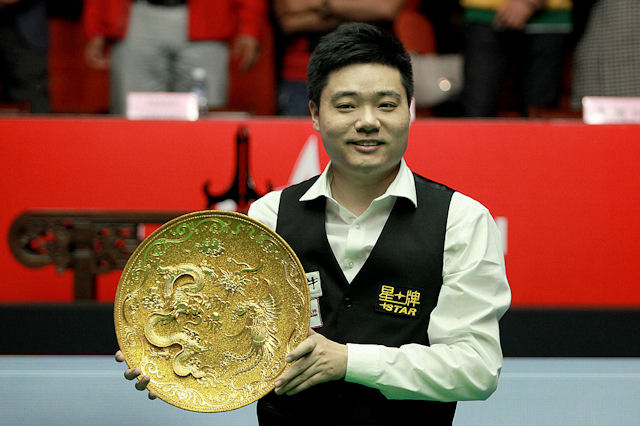 That was unthinkable little more than a decade ago when the sport was dominated by Englishmen, Scotsmen, Welshmen, Irishmen and the odd Canadian (very odd in this case). In addition to Ding (world number 2) and Hong Kong's Marco Fu (world number 7), the seven Chinese players in the world's Top 50 have climbed a combined 79 places this year, and with several new entries in the ranking list (including 16-year-old Lu Haotian), that trend shows no sign of stopping – especially with kids like this coming up.
But back to Ding…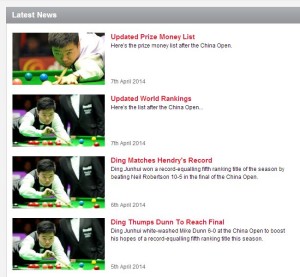 His record-equaling five ranking titles this season would pale into insignificance if he could win The Big One – the World Championships – which kick off later this month. Standing in the way is five-time world champion Ronnie O'Sullivan, whose artificially low world ranking of 33 is because he only plays when he feels like it. World number 1 Neil Robertson said after losing to Ding in the China Open final that he and Ding were probably the only players capable of beating Ronnie at the Crucible in Sheffield, where the World Championships are staged.
O'Sullivan has in the past confidently predicted that Ding would become a multiple world champion. After beating Ding 9-3 in the final of the Welsh Open last month, he also had this to say:
"Once I start slowing down, I hope Ding dominates. He plays the game as it should and people should enjoy him."
But, for now, Ronnie remains. From this week's Sports Talk column:
O'Sullivan is still the bookmakers' favorite given his past dominance in Sheffield, but Ding's transformation this season has been remarkable. Since winning his first major title in Beijing nine years ago, he had almost always struggled to perform at his best in ­China, complaining of the ­huge expectations there, and even wishing last year he was an alien because of the pressure.

Could these roles be reversed in Sheffield?

But three of his ranking titles this season have come on Chinese soil and his experience and maturity have allowed him to play a more relaxed game. If he can continue that for just a few more weeks, Ding could become the world champion that many predicted he would be when he first burst onto the scene.
If that does happen, Ding's stature in China could grow exponentially. Li Na is the other obvious example where individual success is responsible for growing a sport in China, but it's an awful lot easier (and cheaper) for kids to pick up a snooker cue than a tennis racket.