Roads & Kingdoms has an excellent long-form piece by Gabrielle Jaffe profiling the fans of Chinese Super League team Beijing Guoan, exploring the history of the beautiful game in China and delving into the culture of supporter groups around the country.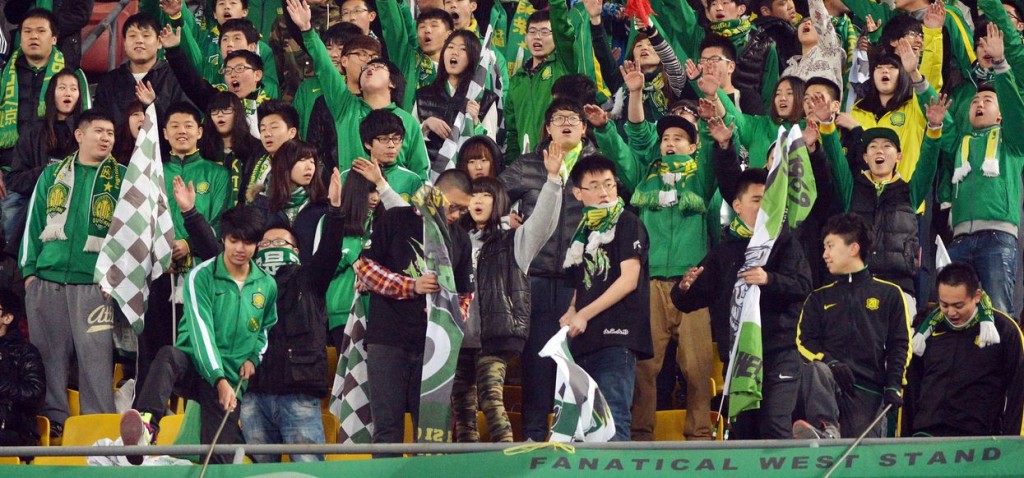 For those unfamiliar with the capital's sole CSL team, Beijing Guoan's crowds last season would rank them eighth in the current list of English Premier League average attendances – above Everton, Spurs and West Ham.
There are lots of highlights, including this:
Zhang claims to spend fifteen hours a week watching and reading about soccer, but none of those hours are dedicated to China's national team. "It's not that I don't love my country. It's because they're shit."
and this superb comparison:
Soccer culture offers an analogy for China today: an edgy government allows a certain amount of free expression (in the case of spectators, the freedom to shout "shabi," or "stupid cunt," at the ref) but is ready to crackdown at any moment. As in most other sectors, power in soccer is concentrated in the hands of state-owned enterprises and wealthy tycoons with political connections.
One minor quibble about a particular bugbear of these pages: Chinese TV viewing figures (or other stats) and how they are presented. Jaffe writes that "By its second season, the domestic Jia A league was being watched on television by 500 million viewers", which is, at best, misleading. To place that in context, last year's most watched sports event on national broadcaster CCTV was the second leg of the Asian Champions League final, when an average of 29 million viewers across all channels saw Guangzhou Evergrande win the title (source: CSM Media Research-KantarSport Asia).
But it's worth your time to read the piece. It forms part of the Far Post collaboration between Roads & Kingdoms and Sports Illustrated, with a new feature published each week in the run up to the World Cup. It's also a stark reminder that Chinese football fans deserve better than the single World Cup appearance they have to show for their passion.