Bubba Watson's second Masters title last weekend may have strengthened his challenge as a potential successor to Tiger Woods, but some compelling signs about the future direction of golf were seen at Augusta a few days earlier. Below is a real picture of the leaderboard at Augusta National, with the names Xu, Huang, Li and Cheng at the top, listed – correctly – as champions.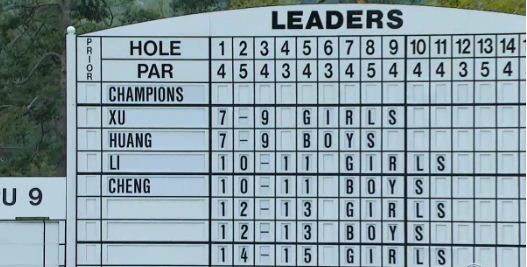 No Watson, Scott, Mickelson or Els? Well, these were the age group winners at the first ever "Drive, Chip and Putt" Championship, the finals of which were televised by the Golf Channel. 9-year-olds Kelly Xu and Treed Huang, and 11-year-olds Lucy Li and Leo Cheng are all based in the US, but it is significant that all four winners of the youngest age groups are from Chinese-American families, given that Asian-Americans account for a little over 5% of the entire US population, and Chinese-Americans make up approximately a quarter of that small group.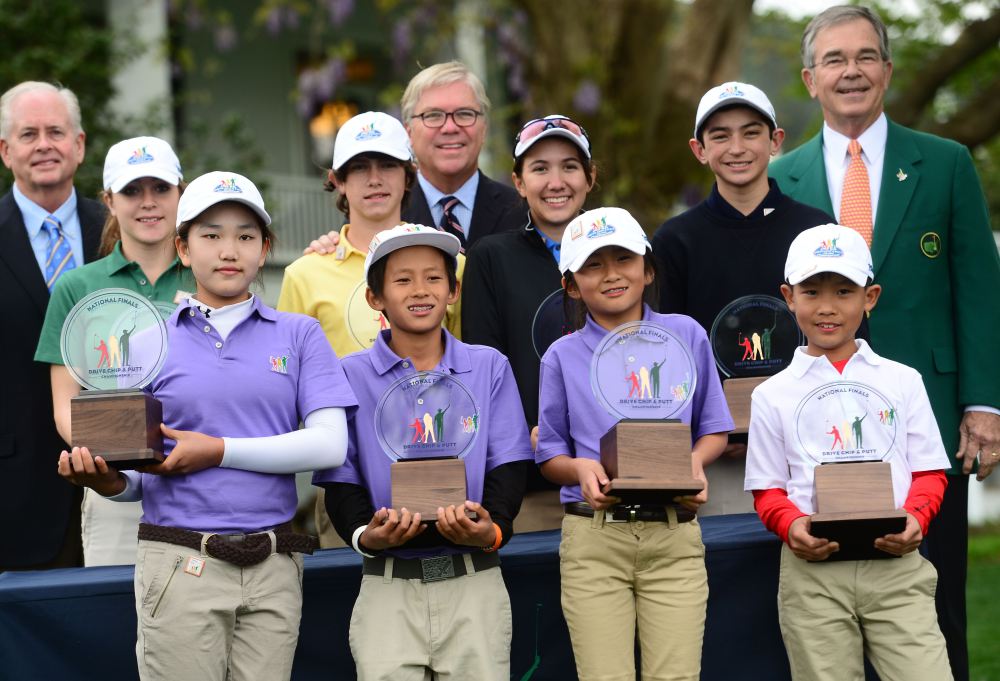 Let's throw in a few qualifiers:
9-year-old champions are far more likely to burn out in their teens than win major titles
There is more to winning golf tournaments than a drive, a chip and a putt
Tiger parents (as opposed to Tiger's parents)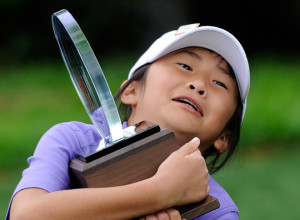 You could make an argument – albeit a tenuous one – that there are greater numbers of Asian/Chinese-Americans in warm weather states (these kids are from CA and TX), so it's less surprising to see them playing golf, but the clean sweep at ages 7-11 appears more than coincidental.
Cheng, whose family hails from Beijing and Hong Kong, was, in true Augusta fashion, given a green jacket that his parents had bought on a recent trip to China; Li's family is from Hong Kong; Xu's grandparents live in China; Huang's parents lived in Guangdong before emigrating in 1998.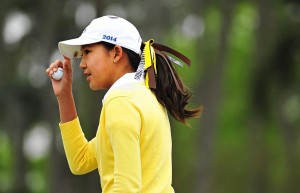 These kids all have relatively close links to (greater) China and certainly fit the trend of a small, but growing, band of mainland parents putting their children through "home golf school". Some kids, like these, hail from China but dream of playing golf in the US; others, like Chinese teens Andy Zhang and Guan Tianlang, already play much of their golf in the States; and others, like this quartet of Augustan champs, have grown up playing golf in the States.
But the point is that more young Chinese – whether by nationality or ethnicity – are playing golf than ever before, and they seem to be pretty damn good at it. You could make the case that golf's cerebral, individualistic and non-contact elements all contribute to its popularity among Chinese parents. Add in the PGA Tour China Series that kicked off this week, and it seems clear that the so-called Asian pivot applies to the game of golf at least as much as it does to any US foreign policy initiative.