Stories started to spread on Monday that Chinese home appliance chain Suning was set to buy a stake in Spanish megaclub Barcelona. If true, it would have blown news of Alibaba buying a 50% stake in Guangzhou Evergrande out of the water.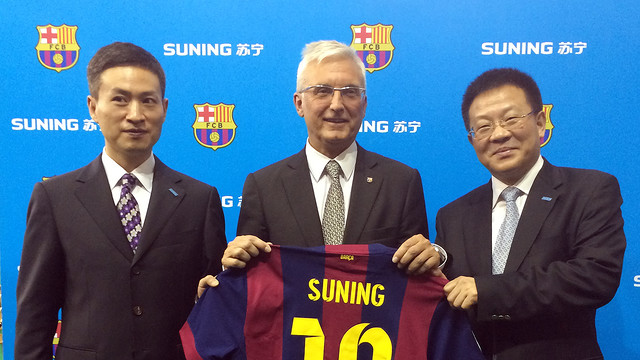 Of course, it wasn't true – for starters, Barcelona is a supporter-owned club – but Suning GM Li Bin had written on his Weibo account on Monday that the firm was set to announce a deal on Wednesday which would be good news for Chinese football (having alluded to something similar a few days before). Fans and reporters put two and two together and came up with all manner of numbers.

In the event, it was still significant news: Suning has become Barca's first Chinese sponsor, in a two-year partnership with an option for a third. The market liked it too: the 7% share price bump Suning received on Monday on the false news has largely stayed even after the real announcement on Wednesday.
It's part of a wider trend for Chinese companies investing in soccer, started by Yingli with its World Cup sponsorship deal in 2010, and taken to a whole new level by Huawei (Atletico Madrid, Borussia Dortmund, Arsenal, PSG, Wellington Phoenix, AC Milan and Ajax). Now others, including Alibaba and Suning, are getting on board.
It's also not Suning's first venture into sport: the group is headquartered in Nanjing, home of this summer's Youth Olympic Games, and is one of Nanjing 2014's official partners, alongside ICBC, China Telecom, 361, SAIC Motor and QQ.com.
But it's more good news for Chinese soccer. Suning will set up football camps around China, with the winners able to go to Barcelona and meet some first-team players. It's also far more likely now that we'll see Barca travel to China for a preseason friendly – perhaps summer 2015 – which would be a dramatic turnaround after the club cancelled a game in Shanghai last year. David Beckham has said China can qualify for the 2018 World Cup, and while China Sports Insider would bet the house against that happening, deals like this are all steps in the right direction.