This is exactly what the PGA Tour – and Nike – would have hoped for when it launched its China Series earlier this year. 27-year-old Shanxi native Zhang Xinjun, who signed with Nike almost exactly a year ago alongside 19-year-old Li Haotong, finally won a tournament after a succession of near misses. He now leads the overall standings in the race to win one of five spots for next year's US-based Web.com Tour, itself the feeder of the PGA Tour.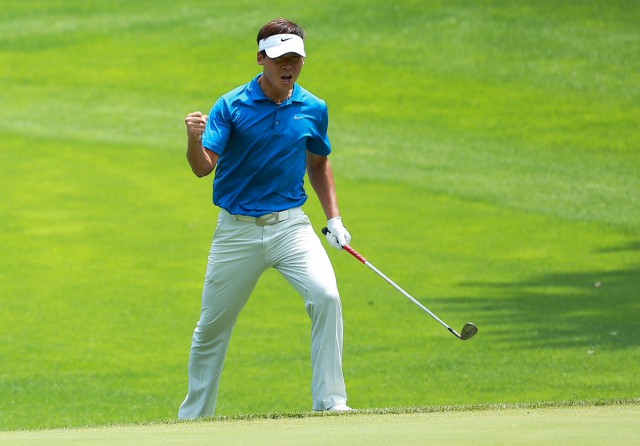 Zhang won the Earls Beijing Open by two shots on the weekend thanks to a four-shot swing in his favor on the penultimate hole, closing with a 67 to record a 19-under-par total of 269. Not only was it Zhang's first win as a pro, it was the first win by a Chinese player on the PGA China Tour – and it was a long time coming.
In the first tournament of the year, the Mission Hills Haikou Open, Zhang finished second, before tying for eighth at the Buick Open in Guangzhou. He looked to have the Wuhan Open wrapped up, but missed a par putt from five feet at the last, and further misses from eight and 10 feet in the sudden-death playoff meant another second-place finish.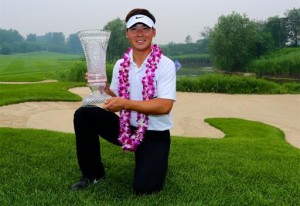 Tournament number 4 saw Zhang tied for sixth at the halfway point – or so he thought. In fact, he had marked a bogey as a par on his card and was promptly disqualified. Then – finally – came the win in Beijing and the monkey was gratefully removed from his back.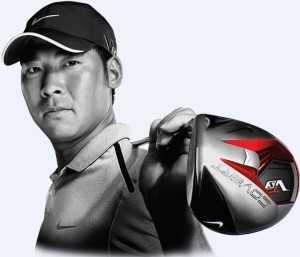 Zhang's win sees him climb to 412 in the world rankings (up from 1033 at the end of 2013) – not exactly threatening the world's best, but an impressive upwards climb nonetheless, particularly given the relatively few tournaments he has played. Nike must get credit for doing their homework in selecting Zhang a year ago when faced with finding a needle in a haystack, though no doubt their support over the past 12 months has contributed too.
Zhang has a hefty lead at the top of the PGA Tour China Series Order of Merit, with the five tournament winners so far completing the top five. Immediately behind that group sits Zhang's Nike stablemate Li Haotong in sixth, while Australians account for three of the top seven, Taiwan-born American Sam Chien is in third and Korean J.H. Wang in fourth. One other to watch out for is 17-year-old amateur Dou Zecheng who is not eligible to win a spot on the Web.com Tour but has finished T26, 2, T5 and T19 in his four tournaments.
The Tour now has a midseason break, before resuming in mid-August with the Yunnan Open.