The Chinese are watching the World Cup in their droves, with some staying up so late that three people have now reportedly died from World Cup-related sleep deprivation.  118 million posts about the World Cup were written between June 12-17, but FIFA, in all its infinite wisdom, has no official online presence in China. Here's more:

It's never hard to find a reason­ to criticize soccer's world governing­ body FIFA. From dubious voting practices and botched rule amendments­ to its glacial pace of reform and the seemingly ­endless stream of outrageous comments from its president, Sepp Blatter, the hits – sadly – just keep on coming.

But its latest own goal could be one of its most significant.

China may not have qualified for the World Cup, but interest here is still huge ­despite the challenging overnight viewing­ schedule. 

For comparison's sake, an average of 11 million viewers in the US watched the USA-Ghana game earlier this week – a record for broadcaster ESPN – while, in the UK, an average of 14.4 million watched Italy beat England on the BBC last weekend, making it the most watched UK show this year.

Data from CSM Media Research-KantarSport China, however, revealed that an average of 18.6 million viewers watched Germany beat Portugal on CCTV in a match that only started at midnight. Moreover, nearly 44 million people watched at least part of the game before calling it a night.

Yes, China's population is far larger than that of the UK or the US, but FIFA's market in China is still much bigger. 

Why, then, does FIFA have no official presence on social media­ in China, or an official­ website in Chinese?­ It's a mind-boggling­ oversight in today's age and there is no excuse: ­China generated­ the single biggest­ TV audience of the 2010 World Cup when an average of 66 million people tuned in to see Germany play Argentina.

Andrew Collins, CEO of the Shanghai-based social media agency Mailman Group, says FIFA might view China as too much of an unknown market and digital environment, but adds that revenue will be lost through missed merchandise and sponsorship opportunities.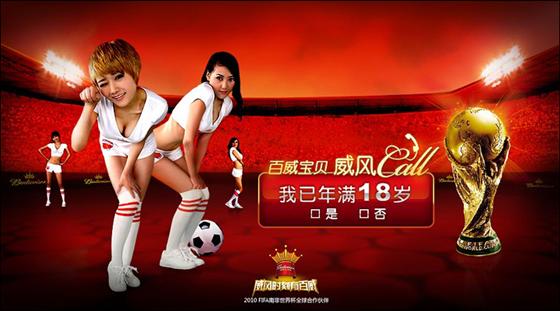 Nine of FIFA's 14 partners­ and World Cup sponsors maintain accounts on Weibo, but the teams themselves largely ignore China: of the 32 teams that qualified for Brazil, only three – England, Germany and Belgium – have an official Weibo account.

Given that the last World Cup pulled in revenues of $3.6 billion, perhaps Blatter and FIFA don't care about squeezing even more money out of the machine, but China could also be affected.

By failing to engage properly with its largest market, FIFA is missing the chance to generate­ new fans at a grass-roots level – and that will only ensure China's­ continued absence at the biggest sporting event in the world. 
This column originally appeared here.