Zou Shiming's tomato can era has officially ended. In beating Luis de la Rosa on points last weekend, Zou moved to 5-0 (with 1 KO), and he remains on track for a world title bid later this year (though promoter Bob Arum is already talking about his first title defense). Some world champions are clearly tougher than others, but you can't stage manage a title fight in quite the same way as you can line up a pushover opponent. In other words, shit just got real. Here is this week's Sports Talk column: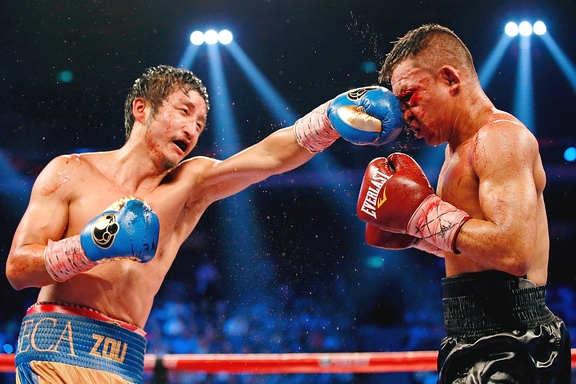 Zou Shiming's day of reckoning is fast approaching, and, when it comes, the debate will be over.
The double Olympic champion boxer from Guizhou romped to a unanimous points decision over Colombian Luis de la Rosa this weekend, dominating the scorecards in their 10-round fight. But there was no knockout, and critics pointed to De la Rosa's empty record, and the fact that he was 2-2 in his last four outings.

The question is – and this time it really could be a multi-million dollar question – how good is Zou? After the fight, Zou proclaimed himself ready for a world title fight in what would be the first 12-round bout of his professional career. But fighting for a world title is a far cry from beating a series of carefully chosen opponents. 

This is a moment that he has been groomed for since turning pro just over a year ago, and while Zou only has 33 rounds of professional boxing under his belt – one for each of his years – his camp knows he doesn't have the time to wait any longer.

An 18-month road to the top had been mapped out once he ended his glittering amateur career, and the latest plans included a November fight against IBF world flyweight champion Amnat Ruenroeng of Thailand.

Zou's legendary coach Freddie Roach said some of his fighters have taken up to four years to fully adapt to the professional ranks, and that the Chinese star has accomplished this feat in about a third of the time. But the feeling remains that Zou's best quality is his pulling power and a world title would increase his marketability still further.

The Venetian Macao, which has hosted all of Zou's professional fights, reportedly pulls in tens of millions of dollars in additional revenue each weekend that Zou is on the card – mainly thanks to plenty of high-rollers traveling down from the mainland – and that is a money train that no one connected to Zou wants to see stop anytime soon.

All of Zou's opponents to date have been ­talked up by his promoter Bob Arum – still one of the best in the business despite being well into his 80s – but the debate over Zou's ability will end once a title fight comes around.

Arum, Roach and others have been telling anyone who would listen that Zou is the real deal. We will soon find out whether or not Zou can back up their words.