The HSBC Champions teed off in Shanghai on Thursday and, despite attracting 40 of the world's top 50 golfers, the Chinese won't be paying much attention. That's because there's no Tiger Woods and no Rory McIlroy.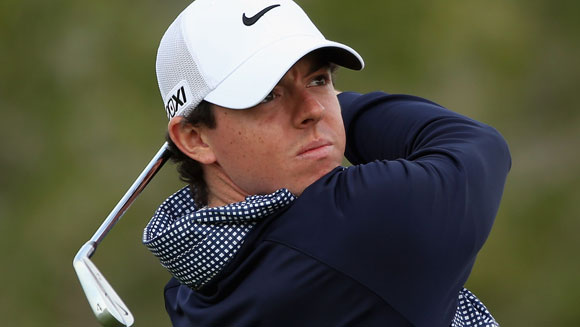 Tiger has an excuse – he's been injured and hasn't played since August – but Rory? Officially, he's preparing for a court case 4-6 months from now. Unofficially, he's tired after a long season, China is a long way away, he's still likely to win the big end of season climax without playing here, he won't make as much money as last year, or perhaps a little of everything. Whatever the truth, it doesn't reflect too well on McIlroy – and it hurts Chinese golf too. This week's Sports Talk column is below: 
We're right in the middle of China's peak golf season, with major tournaments in Beijing, Shanghai and Hainan drawing the world's best men and women, but there is one notable absentee – Rory McIlroy.

Given that he's appeared in China several times over the last few years, including playing some lucrative one-on-one duels with Tiger Woods, you would be forgiven for thinking he must be either injured, playing elsewhere, or perhaps resting up for the season's finale. In fact, he has stayed at home to prepare for a court case that won't take place for several months.

McIlroy made a reported $1.5m for 18 holes of golf with Woods in Hainan last year – nearly as much as he earned on the PGA Tour all year in 16 events.

In a nutshell, he signed with Horizon Sports Management three years ago, shortly after winning his first major title. In 18 months with the agency, he became world number one, won another major and signed a massive multi-million dollar contract with Nike. But a year ago he entered into court proceedings with Horizon, arguing that they had forced him into signing an unfavorable deal and were keeping too much of his money.

McIlroy, by all accounts, is one of the good guys – passionate, young, honest and friendly – but this ongoing saga is giving the tide of popular opinion every chance to turn against him. For a start, his absence in China won't affect his season, because he's so far ahead in the overall Race to Dubai rankings, he can skip two prestigious tournaments in Shanghai and still comfortably top the standings.

He has previously implied he would have been quite keen to end his season early if he didn't have further tournament commitments, and Tiger Woods' absence means there was no chance of a money-making rematch over 18 holes in China this year, giving McIlroy another reason to stay at home. But the real sniping will come early next year, when every little detail of his finances are raked over in court for all to dissect.

Unless a settlement is reached, that will do untold damage to the player and to the sport as a whole, but for now, Chinese sports fans are the one missing out. Chinese golf has some candidates who could potentially lift the game into the mainstream, as Li Na did for tennis, but without Tiger or Rory, few will have noticed Su Dong's impressive performance in last week's BMW Masters or 19-year-old Li Haotong's recent run of good form.

For a sport that is already suffering from China's ongoing corruption crackdown, it's a bogey it could do without.
This piece originally appeared here and in print.