The following is a guest post written by Jo Hoopes, who accompanied Chinese media on their trip to Super Bowl XLIX last week.
While Chinese media covering American football may once have seemed like an anomaly, this year correspondents and commentators from PPTV, LeTV, CCTV, Shanghai's G-Sports, Guangdong TV (GDTV), Sina.com and Hupu.com all turned up bright eyed and bushy tailed for Super Bowl week, taking in the larger-than-life fan events and Media Day frenzy with enthusiasm.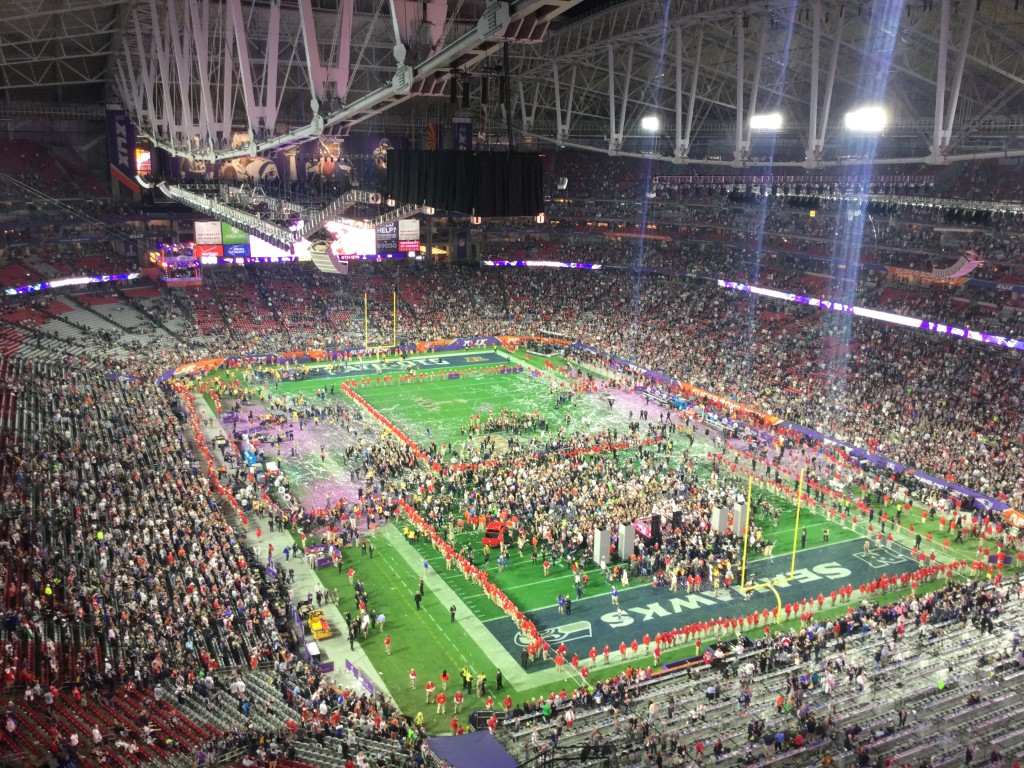 "My favorite part of this week? The game. Two great coaches and defenses. There is the opportunity for a legend to be made today," said LeTV anchor and long-time football fan Shen Xiao.
The NFL has recently seen a surge in global interest, with a deliberate focus on international expansion to engage new fans, bring in additional revenue streams and attract commercial partners overseas.
According to recent reports, the growth of the NFL in China in the past year has been the biggest in terms of population size. Since 2013, interest in the NFL among the Chinese population has jumped from 1.7 to 7.9 percent – meaning an extra 31 million people in China now have an interest in the sport.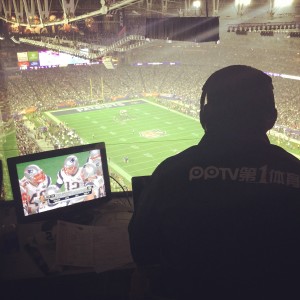 "I think the media are enjoying the sport of football," says Wang Datong, a commentator for PPTV. "It is obviously growing in China with more players in the AFLC [American Football League of China, which expanded from 12 to 16 teams this season] and other teams popping up everywhere."
Sold out NFL Super Bowl parties in Beijing and Shanghai capped off a banner year for the NFL in China, which hosted 30 interactive events in 9 cities across China through its NFL Home Field events and NFL on Tour truck initiative, drawing over 110,000 event participants and culminating in the University Bowl V, attended by NFL legend Jerry Rice and 14,000 local fans.
"I think in the past people didn't understand the game – how to watch or how to play – but now even our parents and grandparents are becoming more interested in learning about the sport. When they watch live games that their sons play in, they learn and become fans," says Wang.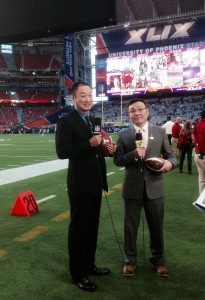 In China, Super Bowl XLIX was aired live on Star Sports 2 (Fox Sports), Shanghai G-Sports, Guangdong TV Sports (GDTV Sports), Fujian TV, PPTV, iQiyi, LeTV, Sina Sports and QQ Sports. In addition, 2.6 million fans across China tuned in to watch the Super Bowl live online, up over 40% from last year.
"Media are paying more attention, not only to the Super Bowl, but also to the regular season. More fans want to watch online and on TV every year," commented Ning Jiang of GDTV. The NFL's video distribution has become more sophisticated in recent years, with the league now offering its 'NFL Game Pass' – a subscription online service offering various packages for live games – in addition to deals with television broadcasters.
A much anticipated matchup ended exactly as it should, according to media attendee and former kicker Long Ding. "It's thanks to games like these that new fans can understand the passion, sweat and heart that makes American football a great sport. I will never forget my time playing and am a fan for life."