After a breathless few weeks during which the entire sporting world has been talking about Chinese football (with yours truly quoted by AFP three times, FT twice, El Pais, Hicimos, Vice Sports and interviewed by CCTV, BBC and Al Jazeera among others), let's take a look at a few stories that could be cropping up over the next 12 months…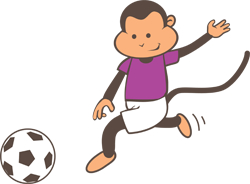 1. Which high-priced foreign import will be the first to flee the CSL?*
Well, you didn't really expect all these new signings to have a happy ending, did you? The days when Nicolas Anelka and Didier Drogba left abruptly after not receiving their promised piles of cash may be (mostly) over, but it's hard to believe all of Alex Teixeira (below), Jackson Martinez, Ramires, Fredy Guarin, Gervinho and others will settle seamlessly into their new teams on the other side of the world.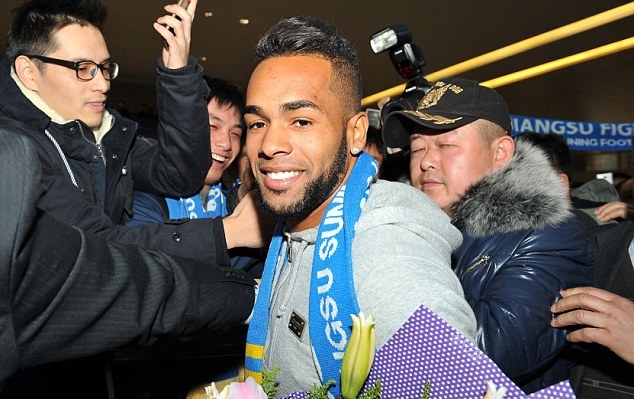 That's not to say that they will all disappear next week – Asamoah Gyan and Demba Ba, for example, hardly set the league on fire last year and are still playing in China – but if these players' agents can attract interest from a serious contender in Europe (and their pay cut is at least softened by a hefty signing bonus), then you have to think there could be some further moves this summer.
*Not including Tim Cahill, who was sacked by Shanghai Shenhua yesterday (rather than choosing to leave), presumably because the club is lining up a replacement in the days ahead…
2. Who will be tasked with leading China's national football team?
Gao Hongbo has returned as manager on an interim basis following the sacking of Alain Perrin, who impressed in last year's Asian Cup, but has left Gao with razor thin hopes of qualifying for the 2018 World Cup. Should Gao achieve the improbable, he would certainly be a contender to take charge of the team past March, though the trend over the last two decades has been to flip flop between Chinese and international coaches, with the enlightened heads of the CFA no doubt blaming each failure on the fact that there is a Chinese/foreign (*delete as necessary) coach in charge and taking the appropriate (i.e. opposite) action when appointing the next manager.
3. Who will be China's next homegrown soccer star?
Last year the focus was on Zhang Xizhe, but he returned to China without ever making his debut for Wolfsburg. Goalkeeper Wang Dalei and defender Zhang Linpeng are among those who have been touted for moves abroad, but with the influx of foreign stars, they may yet decide to stay in China. The CSL has quotas for foreign players, which are designed to safeguard opportunities for Chinese youngsters, but it's far from certain that a deluge of overpaid, international players will have any discernible benefits for their Chinese teammates.
4. Will Zhang Shuai be the next Li Na?
Nine (or more) times out of ten, you can answer a headline posed as a question with the answer 'No', and I don't see this one being any different. Zhang Shuai was one of the feel good stories of this year's Australian Open, reaching the quarter-finals as a wildcard entry after admitting she had nearly given up the game in frustration. But once there, she wasn't able to beat another unseeded opponent, Jo Konta, and while that run boosted her back up to no. 65 in the world rankings, she's still down from her career high of no. 30. Instead, wait a couple more years to see if former world junior no. 1 and Nanjing Youth Olympics gold medalist Xu Shilin can realize her undoubted potential.
5. Will Zhou Qi be the next Yao Ming?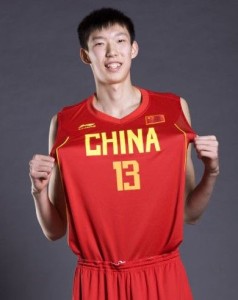 See the question above for the short answer, but Zhou Qi (right) is projected to be selected in the early rounds of this year's NBA draft (assuming, that is, he is allowed to leave the CBA), which would rank him alongside Yi Jianlian (drafted 6th overall, 2007), Wang Zhizhi (36th, 1999) and Sun Yue (40th, 2007). But none of those players was ever able to cement his place in the NBA, and all instead returned to the comforts of the CBA. Standing 7'2″ with a 7'6″ wingspan, Zhou will certainly get drafted at some point, but history shows just how hard it is for a Chinese player to make the massive step up to the NBA – and how truly great Yao Ming was for doing so.
6. Can golf get back in the good books?
Golf in China had a very rough year in 2015. No matter how the reports digested the officials statements, it was not a game to be associated with – at least not on a casual level – due to China's ongoing corruption crackdown. But the elite end of the game could change all that in 2016. Golf will be back in the Olympics and women's world no. 6 Feng Shanshan has to be a decent contender for a medal in Rio, even for a sport that is notoriously hard to predict. It's likely a few years too soon for any of China's men to join her in the top echelons, but Liang Wenchong and Wu Ashun are currently in position to qualify for Rio, and if one of them does manage to excel, expect China's state-run media outlets to lead the charge in covering their exploits (and claiming credit).
7. Where will China finish at the Rio Olympics?
Either side of topping the medal table in Beijing, China finished second both in Athens in 2004 and in London in 2012. Home field advantage is huge in the Olympics, but as Brazil isn't expected to compete for the top spot, expect another straight fight between China and perennial table toppers, the US. While the US will dominate on the track and China will mop up in favored sports like table tennis, gymnastics and diving, the most interesting battle might come in the swimming pool, where the US will still come out on top, but China's core – led by Sun Yang and Ye Shiwen, both double Olympic champions, as well as 2015 CCTV Sports Personality of the Year Ning Zetao – will look to chip away at that lead. Cue parallels being drawn with the geopolitical new world order…
8. Will China have any track/field stars in Rio?
The successful 2015 World Athletics Championships in Beijing saw an improved performance from the home team, even if no real successor to Liu Xiang emerged, and that trend should continue into Rio. The diminutive Su Bingtian became the first Chinese sprinter to dip under 10 seconds in the 10 meters, sneaking into the Bolt-Gatlin final via the backdoor, but he'll likely need to improve on 9.99 just to make the final in Rio, let alone win a medal. Meanwhile, China's walkers can certainly put one foot in front of the other pretty competently, but not even state broadcaster CCTV will be able to fool the public that a 'race' walker is a bona fide track star, even if he or she wins the Olympic title. Instead, this website is pulling for 24-year-old high jumper Zhang Guowei (below), silver medalist at last year's World Champs, who has a winning combination of talent and personality, to take home some hardware.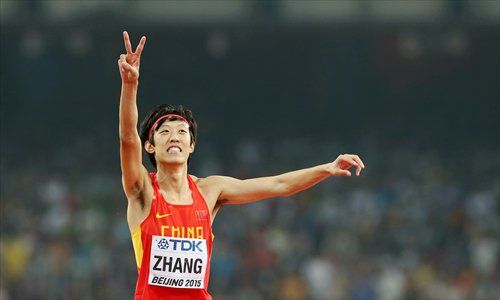 Side point: the IAAF will be desperate for new sponsors following the desertion of Adidas and Nestle in the wake of its drugs scandal, and it will certainly be looking east for replacements, given the number of high profile sports sponsorship deals by Chinese companies in recent months, including Hisense becoming a global sponsor of UEFA Euro 2016, but expect Chinese companies to avoid this like the plague.
9. Will winter sports really take off in China?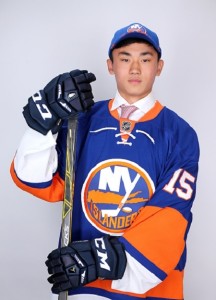 This website remains skeptical about the government's brash prediction – later backtracked, wholly unconvincingly – that 300 million Chinese will get involved in winter sports if Beijing wins the bid to host the 2022 Winter Olympics. Likewise, the chances of China's winter sports ambassador Song Andong (left), drafted last year by the New York Islanders in the sixth round, playing just one game in the NHL – let alone becoming China's first hockey star – are slim, despite the usual hype to the contrary. However, the winter sports industry is undoubtedly developing here at an incredible rate. Numbers are hard to come by for this, but – anecdotally, at least – new ski resorts are opening and drawing crowds, ice rinks seem full and, crucially, more people are posting pictures from the slopes and generating further interest. On a smaller scale, lots of details still need to be provided about Beijing's new ice hockey franchise, set to debut in the KHL later this year, but Beijing has some passionate sports fans (Guoan, Ducks etc) and a winning team could see some of them jumping on the bandwagon.
10. What changes will we see in the wider sports industry?
2015 was arguably the most significant year for the Chinese sports industry since 2001, when Juan Antonio Samaranch announced that Beijing would host the 2008 Olympics. Led by soccer (especially the wide-reaching grassroots reforms announced in March last year and the new CSL TV deal brokered in September), the government's determination to make China's sports industry the biggest in the world and a significant contributor to GDP, plus the successful bid for the 2022 Winter Olympics, the transformation was as dramatic as it was fast. In 2016, look for this trend to continue – more high-profile deals both in China and abroad, including acquisitions of sports teams and properties, plus sponsorship deals – all involving Chinese companies. The broadcast market has also taken off, with Tencent, LeTV, Alibaba, Sina, PPTV and others relegating CCTV's monopoly on broadcast rights to the history books, with many entities hungrily competing for content. This should also continue, but, at some point, there has to be some industry-wide consolidation, with too many players existing at the moment.