China Medal Count
3 gold, 2 silver, 3 bronze
Day 2: Medals
Gold: Zhang Mengxue (women's 10m air pistol); Long Qingquan (men's 56kg weightlifting); Wu Minxia and Shi Tingmao (women's 3m synchro)
Day 3: Ones to Watch
Plenty to watch on Day 3 from a Chinese perspective, but in terms of medals, look no further than the duo of Chen Aisen and Lin Yue in the men's 10m synchro. Elsewhere the men's gymnastics team has a decent chance but must see off Japan and others, while Sun Yang – whose feud with Australia's Mack Horton has turned into a huge story (see below for more) – will line up as the fastest qualifier in a 200m freestyle final in which virtually all eight swimmers could get on the podium. Fu Yuanhui, Xu Jiayu and Shi Jinglin are all in other swimming finals, but are outside medal hopes. Fu's reaction to qualifying for her final, by the way, was priceless.
Day 2: Review
China shot to the top of the Olympic medal table for a large part of Day 2, thanks to golds from weightlifter Long Qingquan, shooter Zhang Mengxue and the synchronized diving pair of Wu Minxia and Shi Tingmao.
But away from the sporting action, one controversy in particular has threatened to erupt into full-blown diplomatic incident.
Mack Horton, the Australian swimmer who beat China's Sun Yang in the 400m freestyle, doubled down on his previous comments that Sun, who served a three-month doping ban in 2014, should not be competing at the Olympics, again referring to him as a "drug cheat" as the pair jointly addressed media.
Chinese net users have bombarded Mack Horton on Twitter and Instagram, demanding an apology, while Sun Yang later told Australian media that Horton was no friend of his, contradicting the rather hollow claim by Chinese swimming team manager Xu Qi that Sun was close with many in the Australian team.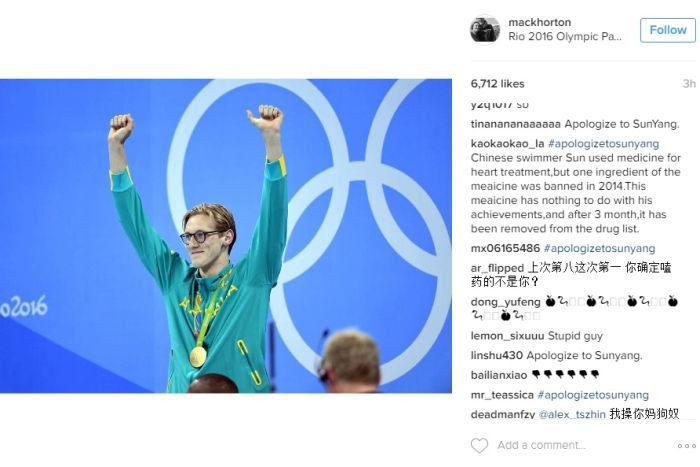 Unfortunately, no one is emerging with much credit in this sorry saga.
Mack Horton may only be 20, but he is entitled to his opinion – and has been backed by the Australian Olympic Committee – and is no doubt voicing what many of his teammates think. But the fact that several Australian swimmers, at least one of whom is one in Rio, have previously been caught taking banned substances rather undermines his stance.
In fact, this has been rumbling on for a while, ever since Sun and other swimmers started to train in Australia with Australian coaches. Sun was heavily criticized there once news of his drugs ban emerged, and shot back at media at last year's Worlds, saying that other countries had had similar incidents, specifically mentioning Australia. Don't be surprised if China's other swimming star Ning Zetao, who drew a one-year suspension for using clenbuterol in 2011, also gets drawn into this.
Meanwhile, Sun Yang is also far from blameless in this war of words. He reportedly taunted Horton in the training pool by splashing him and was later pictured on the bus back to the village smirking at Horton's teammates, who were clearly not amused. He could have opted for the high ground, but, instead, this spat has unsettled him, potentially costing him a gold medal.
Chinese fans, disappointed that Sun lost out in the final and then spurred on by emotional footage of his tears after the race, have jumped to defend their hero's honor, but attacking Mack Horton online – or in some cases attacking Mark Horton online – and making death threats against Australian reporters hardly covers China in glory.
But death threats. Really. Seriously. Get a grip. https://t.co/K97oYXRpGX

— Todd Balym (@balym_GCB) August 7, 2016
Horton's needling comments and deliberate attempts to unsettle Sun, while classless, are all part of the game and there is no way he will be apologizing, as some in China have demanded.
But arguably the biggest blame lies with China's swimming authorities.
The fact is that Sun did serve a doping ban for failing a test and, whatever the circumstances surrounding that suspension, the mishandling of the incident – with the ban only announced after it had been completed – gave the appearance of a cover-up.
Given the heightened sensitivity of doping issues today, compounded by Chinese swimming's own checkered past, this has arguably condemned Sun's achievements to be tainted for the rest of his career.
Love him or hate him, though, Sun Yang has been rattled and must now sharpen his focus if he is to get revenge against Mack Horton in the 1,500m freestyle later this week.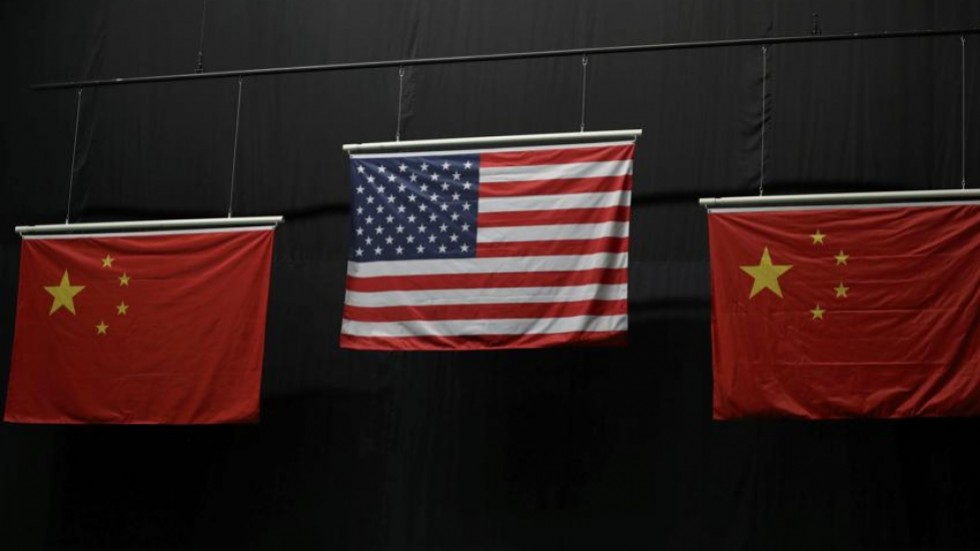 A quick note on another controversy: the Chinese team was outraged that the four small stars on the Chinese flag used in medal ceremonies were not properly aligned with the larger star and promptly made an official complaint. But the Rio Olympic Committee claimed that that all flags had been approved by the respective national committees and it turns out the flags were made in Zhejiang.
Whoops.
To keep up-to-date with all the latest news from China Sports Insider, please click on the "SUBSCRIBE" button in the top right corner of this page.