China Medal Count
5 gold, 3 silver, 5 bronze
Day 3: Medals
Gold: Sun Yang (men's 200m freestyle); Lin Yue and Chen Aisen (men's 10m synchro)
Silver: Xu Jiayu (men's 100m backstroke)
Bronze: Fu Yuanhui (women's 100m backstroke); men's team (gymnastics)
Day 4: Ones to Watch
Strong medal chances for China come from divers Chen Ruolin and Liu Huixia in the women's 10m synchro and the women's gymnastics team. More pool action sees Shen Duo go in the women's 200m freestyle, but with Katie Ledecky and Sarah Sjostrom in the race, Shen will be competing with world record holder Federica Pelligrini for the bronze. Ye Shiwen goes in the women's 200 IM final, but has struggled to rediscover her golden form from London. Weightlifters Deng Wei (women's 63kg) and Shi Zhiyong (men's 69kg) also compete for medals.

Day 3: Review
While the world was being introduced to the Chinese technique of 'cupping', things got even more ugly on Day 3. The ongoing feud between China's Sun Yang and Australia's Mack Horton saw officials from both sides pile into the fray, while others waded into the drugs debate.
There were reports that Sun Yang was booed in the pool, though the ones for Russia's Yulia Efimova were far more audible. Meanwhile, Ireland's Fiona Doyle and USA's Lilly King were among the swimmers critical of convicted dopers in Rio, but none was more outspoken than Frenchman Camille Lacourt (pictured below), whose comments veered into dangerous territory. Sun Yang "makes me sick", he said, and "pisses purple" – an obvious reference to Sun's previous drugs ban. But he also said he didn't like getting beaten by a Chinese, after finishing three places behind China's silver medalist Xu Jiayu – who has never been banned for drugs – in the men's 100m backstroke final.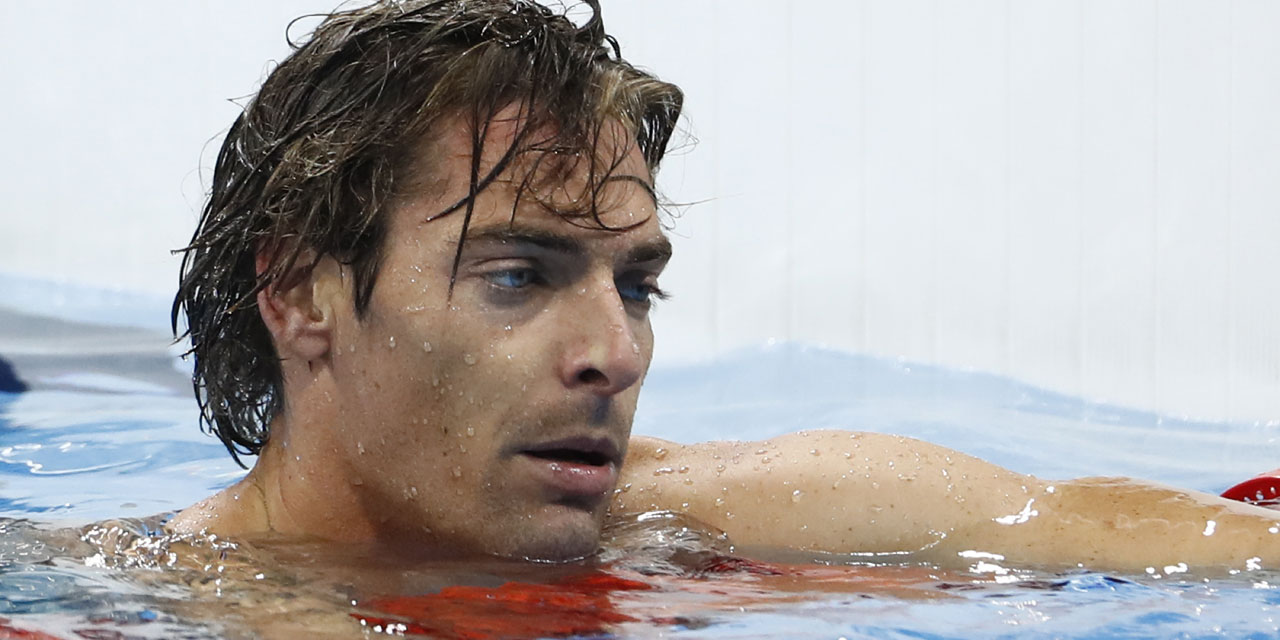 Athletes are understandably angry and have a right to an opinion, but disparaging Xu – based, presumably, on the suspicions that surround China's swim program – added further evidence that the three core Olympic values of excellence, friendship and respect have been well and truly banished from Brazil.
The press have taken full advantage, too, with this controversial defense of Efimova on NBC set against this incredible takedown of Sun Yang on swimming website Swim Vortex, plus everything in between, not least this BBC summary by the always excellent Tom Fordyce.
Meanwhile, Sun bounced back from his 400m freestyle defeat against Horton with a vengeance, winning the 200m freestyle by a comfortable margin to the delight of his Chinese fans and the dismay of others.
While Horton doesn't race at the shorter distance, all eyes now turn to Saturday's 1,500m freestyle final when the pair will renew hostilities for the final time in Rio.
It is possible that Sun will withdraw from the longer event now that he has won gold – he's done that before and some are already saying he will do so again – but that would be seen as a massive loss of face around the world, and especially in Australia, given Sun's comments earlier this week that he was the "king" of the 1,500m.
Sun's performance was so dominant that it appeared to breathe life into both Xu Jiayu and Fu Yuanhui, who won silver and bronze, respectively, in the following two events, despite each entering their finals with only outside medal hopes.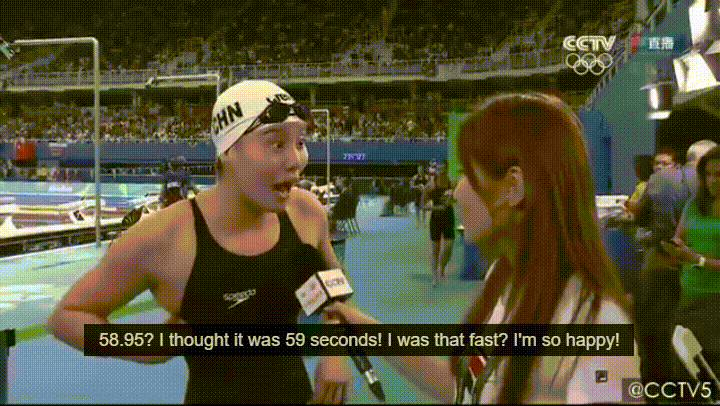 Fu (above), who had captured the hearts of a nation with her astonished interview after the semi-final, again delivered after the race, initially appearing disappointed on camera, before erupting when the reporter told her she had in fact tied for bronze.
In an age of professional sport, when viewers are used to seeing athletes give monosyllabic or sanitized answers time after time, it is refreshing to see Olympic athletes like Horton and Fu speak openly and honestly, even if their subject matters and styles couldn't be more opposed.
Elsewhere, Chinese diving duo Lin Yue and Chen Aisen claimed gold in the men's 10m synchro to keep China's golden streak alive.
But perhaps the greatest display of Chinese 'soft power' came from the most decorated Olympian of all time.
Showing up for the men's 4 x 100m freestyle relay with distinctive marks on his back, some thought Michael Phelps had been sleeping on his medals, others thought he had a new tattoo, while others still thought perhaps he had run into some nasty elements on the streets of Rio.
But it turned out that Phelps had sought out some cupping treatment shortly before winning the 19th gold medal of his career.
Top international media, including NBC and BBC, all covered the fact that Phelps and some of the other athletes have been using the ancient Chinese healing technique of cupping, providing one of the more positive stories in the opening days of the Games.
With the doping scandal continuing to blight these Olympics – and set to continue when Ning Zetao competes in the 100m freestyle on Day 4 – the IOC will be hoping for more cupping and less sniping.
To keep up-to-date with all the latest news from China Sports Insider, please click on the "SUBSCRIBE" button in the top right corner of this page.