China Medal Count
8 gold, 3 silver, 6 bronze
Day 4: Medals
Gold: Deng Wei (weightlifting women's 63kg); Shi Zhiyong (weightlifting  men's 69kg); Chen Ruolin and Liu Huixia (women's 10m synchro)
Bronze: women's team (gymnastics)
Day 5: Ones to Watch
China's divers are 3-for-3 and Cao Yuan and Qin Kai will try to keep that streak alive in the men's 3m synchro. Pang Wei leads China's shooting charge on Day 5 as he goes in the men's 50m pistol. Elsewhere, there are medals on offer in judo, fencing and rowing, while Zhang Yufei and Zhou Yilin line up in the women's 200m butterfly final and Mao Feilian goes in the men's 200m breaststroke final, but aren't expected to win medals.

Day 4: Review
China's Olympic head Liu Peng talked in the build-up to these Games about the need for China to set aside its golden obsession. But you wouldn't know it from listening to China's athletes talk, with one theme emerging above all else: pressure.
When a nation of 1.4 billion people expects nothing but the best, that pressure must be suffocating. Why else have we regularly seen over the years Chinese athletes cry on winning a silver medal, while athletes from other nations – including some Americans – are delighted to go home with bronze?
On Day 4, Chen Ruolin – in partnership with Liu Huixia in the women's 10m synchro – won her fifth gold medal of her spotless Olympic career, but spoke afterwards of the relief she felt – not the joy. She also described the toll that the training had taken on her body – she's still only 23 – and how she thought about quitting the sport entirely.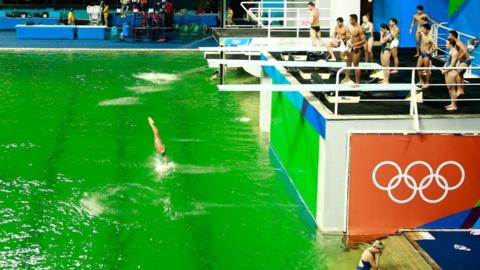 Fortunately for Chinese fans, she did not, but you wonder how much choice Chen had in that decision.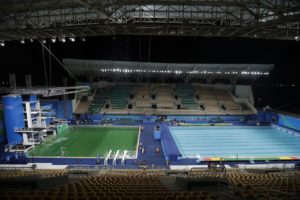 [On a side note, the diving pool had turned green literally overnight, while the warm-up pool remained untouched. Organizers taking the best part of a day to confirm that it was due to the proliferation of algae, presumably of the extremely fast-growing kind, due to heat and lack of wind at the venue. The divers, on the whole, were good-natured about it, with some even saying that it helped them to see the water during their somersaults.]
Meanwhile, Chen's fellow diver Wu Minxia also said this week that she had thought of quitting, speaking of the "mental tension" she felt prior to Rio. Wu has also won five gold medals, spread across four Olympics, and completed the first leg of what could be a clean sweep for China's divers in Rio.
God help the diver who breaks that streak, though.
Swimmer Sun Yang had earlier bemoaned the fact that the hopes of the swimming team centered on his broad shoulders, wishing that some of his teammates could relieve the load. In fact, they have answered his call, with both Xu Jiayu and Fu Yuanhui – who one reader has pointed out has, in contrast, looked like the most relaxed athlete ever – adding to China's medal haul in the pool.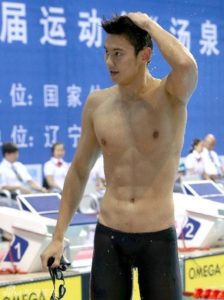 But Ning Zetao's desperately disappointing performance in the men's 100m freestyle, not even making the final after winning last year's World Championships, has put more pressure back on Sun as he weighs up whether or not to swim in the 1,500m freestyle in what would be a highly-charged rematch with Australian rival Mack Horton.
Some athletes thrive on pressure.
Horton, in fact, piled pressure on himself with his comments about Sun, but still delivered when the time came. Michael Phelps' scarcely believable Olympic gold tally is now up to 21, with just 2 silver and 2 bronze medals – the perfect example of someone who shines on the big stage.
Likewise, China's lifters have performed well in Rio, with Deng Wei (women's 63kg) and Shi Zhiyong (men's 69kg) adding to the team's gold medal tally on Day 4.
Meanwhile, Yi Siling, a shooting Olympic champion in London, talked about her poor psychological condition as she finished third in Rio, while teammate and world number one Cao Yifei missed out on Day 4 on a place in the final after dropping several places on his decisive last shot.
All athletes at the elite level have pressure to perform, and dealing with that pressure in the moment is often what decides the medals, more so than raw talent.
With several high-profile Chinese athletes striking out in Rio when tipped for the top, it appears that China's golden masterplan is still very much in force.