China Medal Count
10 gold, 5 silver, 8 bronze
Day 5: Medals
Gold: Ding Ning (women's table tennis); Xiang Yanmei (weightlifting  women's 69kg)
Silver: Li Xiaoxia (women's table tennis); Lü Xiaojun (weightlifting  men's 77kg)
Bronze: Cheng Xunzhao (judo men's -90kg); Cao Yuan and Qin Kai (men's 3m synchro)
Day 6: Ones to Watch
No diving finals tomorrow so the main focus will be on Ma Long and Zhang Jike in the men's table tennis. The top two seeds have their semi-finals in the morning, but are big favorites to meet in the final later that evening. Zhang is the reigning Olympic champion, Ma the reigning world champion and top ranked table tennis player in the world, so it should be a cracker.  In fencing, there was disappointment for China in the women's individual epee, but the women's epee team is the top seed and will play either Brazil or Ukraine in the quarter-finals, with the medals decided later in the day.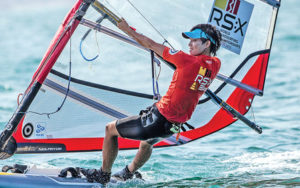 Several Chinese sailors are in action including Chen Peina (right) who is climbing the ranks after winning race 6 in the windsurfing division, plus Chinese interest in shooting, badminton, archery and cycling. Five Chinese swimmers race across four finals, with perhaps backstroker Xu Jiayu best placed to add to his silver medal from earlier in the Games, but realistically one medal from between the five would be great result. Ning Zetao's abs will be on display once again in the morning heats, plus watch out for dark horses Li Haotong and Wu Ashun who tee off in search of golfing glory. Busy day.
Day 5: Review
A solid fifth day for China at the Rio Olympics was headlined by the all-Chinese women's table tennis final, in which Ding Ning came from behind to beat her compatriot Li Xiaoxia 4-3, gaining revenge for Li's victory in the final four years ago.
China is so dominant in table tennis that in each of the last two Olympics it has won all four gold medals on offer – team and individual wins for both the men and the women – plus two silver medals for the losing finalists.
Imagine how the final medal table might look if there were 32 gold medals up for grabs in table tennis, as there are in the swimming pool, instead of just four.
But as China's began its quest for another ping pong sweep, its diving streak ended.
After winning the first three diving gold medals of these Olympics, 3m synchro pair Cao Yuan and Qin Kai came up short after missing their third dive and walked away with bronze, a particular disappointment to the veteran Qin who had won gold in this event in both Beijing and London.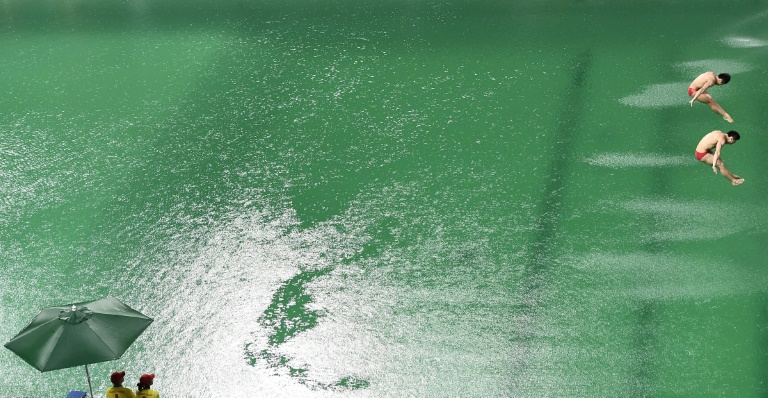 If that was an embarrassment by China's high standards, it was nothing compared to the fact that, for a second day in a row, the diving pool was more of green swamp than crystal blue pool. Organizers finally announced that algae was the problem, but don't seem able to rectify the problem, as the humiliating images continued to be beamed around the world.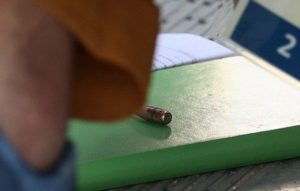 At least the discolored water was declared safe, which is more than can be said for the equestrian venue, which has now had two bullets fired into it from a nearby military complex. A second one was found near the stables on Wednesday after the first had narrowly missed New Zealand's press attache in the media tent.
Elsewhere, China's usual first week charge was being led by the lifters, with four of the nine weightlifting medals so far awarded going to mainland competitors. World and Olympic record holder Lü Xiaojun so nearly won a fifth on Day 5, but a remarkable final lift by Kazakhstan's Nijat Rahimov, who was forced to break the clean and jerk world record after an incredible 12kg increase on his previous lift, tied Lü's total of 379kg. Rahimov was then awarded the gold medal on bodyweight.
But arguably China's performance of the day came from judoka Cheng Xunzhao (below), who became the first man to win a medal for China in judo, while Chinese women have claimed 20 over the years.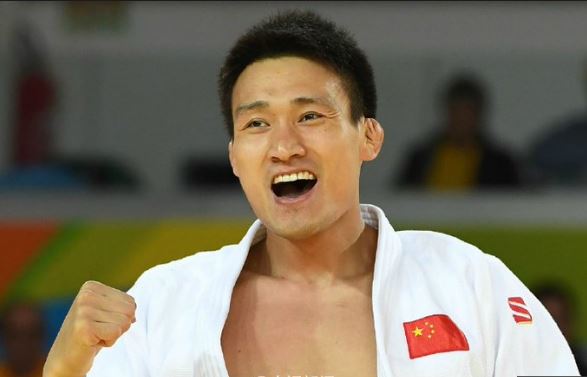 China's obsession with the top spot has proved too much for some of his colleagues, but, for Cheng, his bronze medal was truly golden.