China Medal Count
15 gold, 14 silver, 17 bronze (3rd place overall)
Day 10: Medals
Silver: Zhang Wenxiu (women's hammer)
Day 11: Ones to Watch
China has three competitors in each of the men's triple jump final and the women's discus throw, but a medal in either would be a nice surprise. Cao Yuan qualified top in the men's 3m springboard and will be favorite for gold in the pool that is now, thankfully, blue once more. In gymnastics, Deng Shudi and You Hao go in the men's parallel bars final, while Wang Yan competes in the women's floor final. The synchronized swimming pair of Huang Xuechen and Sun Wenyan lie in second place ahead of the final free routine on Day 11. The women's table tennis team play Germany for the gold, while the bronze medal match in the mixed doubles badminton is an all-China affair.
Day 10: Review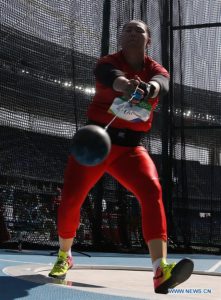 One measly silver on Day 10 is not a great return, but in fairness the US chose the same day to snap a 29-day Summer Olympic streak of gold medals dating back to Beijing 2008, so perhaps it was a tough day all round.
That silver medal went to Zhang Wenxiu (left) in the women's hammer, her sixth Olympic and World medal, though she's yet to win gold.
But elsewhere on Day 10, the luck – as has been the case throughout these Olympics – just didn't fall China's way.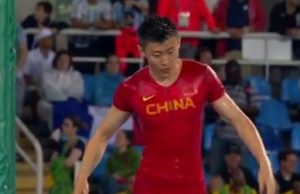 Solid performances came from pole vaulter Xue Changrui (6th), Xin Xin (4th in the 10km marathon swim), and Dong Bin, Cao Shuo and Xu Xiaolong, who all qualified for the triple jump final.
But there were disappointments for Yang Zhe (4th in the men's 105kg weightlifting), Liu Yang and You Hao (4th and 6th in the men's rings), Fan Yilin (6th in the women's vault), both of China's mixed doubles badminton pairings (whose twin defeats mean China cannot repeat its golden sweep from 2012) and diver He Chao (21st in the men's 3m springboard preliminaries), who allowed the blustery outdoor conditions to knock him off his game, leaving Cao Yuan (1st, prelims) as China's sole medal hope in this event.
The biggest highlight of Day 10 came when Brazilian pole vaulter Thiago Braz da Silva stunned the reigning Olympic champion world record holder Renaud Lavillenie to take a gold that reverberated throughout Rio.
Da Silva became just the fourth Brazilian ever to win Olympic gold in athletics, giving Brazil just its second gold of these Games, and it was the perfect example of the boost a home nation always receives at the Olympics, following on from China's 51 golds in 2008 and Great Britain's 29 golds in 2012.
The previous two hosts are now locked in an intriguing battle for second place overall, with much of the investment piled into British sport in the run-up to London four years only now coming to fruition.
Meanwhile, China will be well short of the 38 golds it won in 2012, and trails GB 16-15 with six days of competition left. GB is effectively two golds up on China, because it also leads the silver count, 17-14.
With at least one gold guaranteed to be confirmed for GB on Day 11, China may remain in third for a few more days, though China should still edge second place, with expected golds to follow in table tennis, diving and badminton.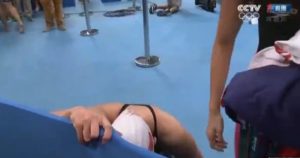 At least that's according to this look at the second-place showdown by the BBC, which has also gone China mad with its Olympics coverage, with articles on Chinese people stretching like Michael Phelps, Fu Yuanhui (above) discussing her period pain (also covered in The Guardian with quotes from yours truly) and, rather more curiously, a piece asking whether Qin Kai's public proposal to fellow diver He Zi was a form of male control. Er, no it wasn't.
But even if China does come through for second, the lack of support from less traditional sports such as fencing and sailing – which both produced gold medals in London – plus a gymnastics team that may return with no champions for the first time since China rejoined the Games in 1984, the country will still be disappointed with its final medal haul.