China Medal Count
19 gold, 15 silver, 20 bronze (3rd place overall)
Day 12: Medals
Gold: Zhao Shuai (men's -58kg taekwondo); Ma Long, Zhang Jike & Xu Xin (men's table tennis team)
Bronze: Sun Yanan (women's 48kg freestyle wrestling)
Day 13: Ones to Watch
Look out for Ren Qian and Si Yajie in the women's 10m platform diving competition, favorites for a 1-2 finish after leading the prelims by a stretch. Li Qiang goes in the men's canoe single 200m final, Zhou Yu lines up in the women's single kayak 500m final and Lu Huihui goes in the women's javelin final, but gold would be beyond their wildest dreams. Elsewhere, there are two huge semi-finals: in women's badminton singles, defending champion Li Xuerui goes up against top seed Carolina Marin (Li leads the head-to-head 3-2), while China's volleyball heroines look to continue the form that stunned favorites Brazil as they face Holland in the semis, in a repeat of their tense opening pool stage match, which China lost 3-2.
In the race for second, China is now tied with GB on 19 golds, but trails 19-15 on silvers. GB has at least two gold chances on Day 13 (the Brownlee brothers in triathlon and the guaranteed sailing gold postponed from yesterday), while China and GB will go head-to-head several times, including in men's doubles badminton (for the bronze) and women's boxing.
Day 12: Review
With Yao Ming, Liu Xiang and Li Na all having sailed into retirement in recent years, badminton star Lin Dan currently carries the flag as China's best-known sports personality.
Swimmers Sun Yang and Ning Zetao have briefly threatened his position at the top, but both had disappointing Games in Rio – especially Ning, who failed to win a single medal – and in terms of lasting sporting greatness, no other active sportsman or woman in China can touch Lin Dan.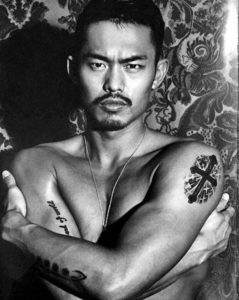 Lin is a controversial figure with five visible tattoos – something of a taboo for a man who's been contracted to the army – including a large cross, representing his grandmother's Christian faith. He also famously smooched his wife Xie Xingfang in public after winning the 2013 world title, long before divers Qin Kai and He Zi staged a romantic podium moment of their own.
Winner of the men's singles at both the 2008 and 2012 Olympics, Lin Dan fought off young Indian player Srikanth Kidambi, who bounced back from a dismal first game to push Lin all the way, in their quarter-final match on Day 12 and Lin now faces a familiar rival in Malaysia's Lee Chong Wei, the man he beat in both of those two Olympic finals.
Lee is the tournament's top seed, but, on the big occasions, Lin almost always finds a way to win. The last two of Lin Dan's five World Championship victories have come at the expense of the Malaysian. Lin has also beaten him on the way to winning the last two Asian Games singles titles.
But that's not to say Lee can be written off just yet.
11 times in the 36 battles between the two, Lee has come out on top, and he will have the support of some vocal Malaysian fans who have taken over the Riocentro, a cramped venue that creates a town hall-like atmosphere, whenever one of their players take to the court.
Should Lin Dan get past Lee once again in Friday's semi-final, the gold medal match will not be easy. China's Chen Long, the world no.2, plays Denmark's no. 4 seed Viktor Axelsen, who has yet to drop a game in Rio, in the other semi-final.
Lin Dan has also taken long periods off from the sport over the past few years – one of which cost him the chance to defend his world title in 2014. But he was one of the only top players to travel to Rio for the official Olympic test event, leaving nothing to chance in his preparations for one last Olympic title, and you just get the sense that Lin Dan knows exactly when and how to peak when it really matters.
Elsewhere on Day 12, China improved to a perfect six gold medals in table tennis from as many attempts in Olympic team events (men's and women's) since their introduction to the Games in 2008.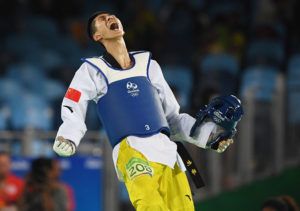 In taekwondo, China's two-time Olympic champion Wu Jingyu lost in the quarter-finals to European champion Tijana Bogdanovic – who said she had learnt by watching Wu's fights on Youtube – but the sport still provided gold for China from an unexpected source: Zhao Shuai (above) won the men's -58kg category, becoming the first Chinese male to win Olympic gold in taekwondo. Following on from previous discussions about the pressure felt by certain Chinese athletes, here are some interesting comments from Wu:
"I felt a lot of pressure, because every day people say 'triple triple triple' [the possibility to earn a third Olympic gold medal], but when I saw that Zhao Shuai was in the [men's -58kg] final, I immediately felt no more pressure. The Chinese taekwondo team now has a new leader."