China Medal Count
22 gold, 18 silver, 25 bronze (3rd place overall)
Day 14: Medals
Gold: Liu Hong (women's 20km walk); Fu Haifeng & Zhang Nan (men's doubles badminton)
Silver: Yin Jinhua (women's 57-60kg lightweight boxing); women's team (synchronized swimming)
Bronze: Lu Xiuzhi (women's 20km walk); Hu Jianguan (men's 52kg flyweight boxing); Li Qian (women's 69-75kg middleweight boxing)
Day 15: Ones to Watch
Golden hopes on Day 15 rest with Chen Long in the men's singles badminton final, the women's volleyball team who play Serbia in the final and Qiu Bo and Chen Aisen, who each have a shot at winning the 10m platform diving individual event. Elsewhere, golfer Feng Shanshan enters the final round in 4th place, three shots off the lead, but she has Park Inbee and Lydia Ko ahead of her. Meanwhile, Zheng Shuyin represents China's best chance for taekwondo glory.
Analysts at Gracenote Sports are now, for the first time, predicting that GB will beat China to second place in the medal standings, and that prediction came before unexpected golds for GB on Day 14 in women's hockey and equestrian. GB leads China 24-22 in the gold race, with Gracenote predicting three golds apiece on Day 15, though I'd say that only one on each side is pretty much guaranteed. China is not quite out of the running yet – taekwondo and golf could throw up some surprises – but everything would have to fall their way to claim second overall at this point, as China continues to come down from its 2008 high (a point I made to Wall Street Journal here).
Day 14: Review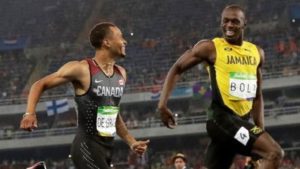 If the western press were talking about the bromance developing between Usain Bolt and his Canadian understudy Andre de Grasse following their on-track banter, Asian viewers saw the conclusion to a relationship that's been at least 16 years in the making.
Malaysian badminton player Lee Chong Wei, 33, finally found a way to get past his Chinese nemesis, Lin Dan, 32, in Friday's semi-final, after Lin had beaten Lee in the past two Olympic finals.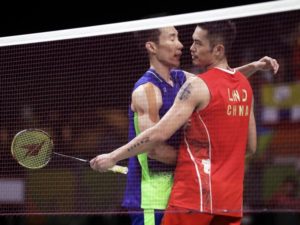 Their 37th – and possibly last – clash was one for the ages, with Lin saving three match points in the deciding game – the last with a breathtaking passage of play – before Lee finally closed out the third game 22-20.
And then it happened.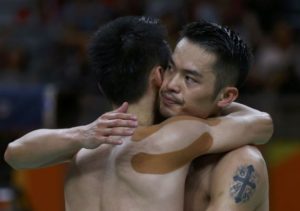 The two long-time rivals congratulated each other at the net in a lengthy bear hug, then stripped off their shirts and held each other again in a semi-naked embrace. If Bolt-de Grasse was bromance, this was more like marriage, but clearly demonstrated the levels of mutual respect that exist between the two.
Talking in his post-match interview, Lin was gracious in defeat, saying how proud he was that the two of them were able to put on such a great show for the spectators in the venue and with millions more watching around the world, despite the fact that he had been unable to complete his hat-trick of Olympic titles.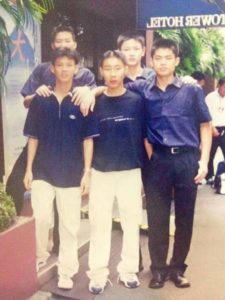 Chinese fans are almost as familiar with the Malaysian Lee as they are with their countryman Lin, having watched the two grow up together, and as a picture of the pair together as teenagers (left) circulated on social media after the game, many said that who had won wasn't important, wishing Lee all the best for the final. But if both Lee and Lin were equal in their humility, the contrast between the other two semi-finalists in their post-match interviews couldn't have been sharper.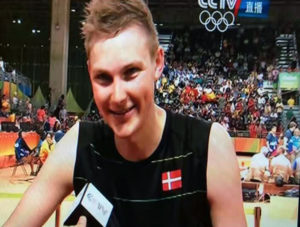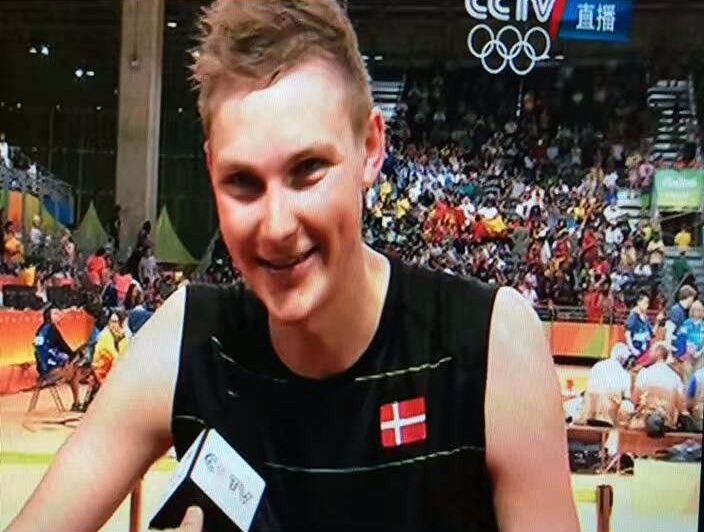 22-year-old Danish player Viktor Axelsen happily spoke to the CCTV cameras in very passable Mandarin (right), despite having lost 2-0. He started to learn Chinese a few years ago partly because he hopes it will help him gain sponsors in the world's biggest market. Judging from the way he charmed viewers with his answers, it was a good strategy.
His Chinese opponent Chen Long, however, was far less charming.
After shrugging off a reporter's question about why he had blown kisses to the crowd following his victory, Chen proceeded to head straight off court, but when told this was all being shown live on TV, replied that he would only answer one quick question. He did so as quickly as he'd promised, with no trace of a smile, and promptly headed for the locker room.
While he is undoubtedly under pressure to deliver what would be just the second badminton gold for China in Rio – a sharp decrease from the full house of five won in London – Chen's brusque manner has never endeared him to the masses over the years, and Chinese fans are now faced with the unlikely choice of cheering for Chen to bring back gold or, instead, back a Malaysian whom, deep down, many admire far more.
Elsewhere on Day 14, China finally picked up a gold medal in badminton at the fourth attempt as the men's pairing saved two match points in their 2-1 win. Chinese women placed 1st, 3rd and 5th in the 20km walk, with Liu Hong first home after finished 4th in both Beijing and London, while Yu Wei was the best-placed Chinese man in the 50km walk, finishing 5th. The synchro team equaled the silver performance of the duet earlier in the week, China's boxers picked up three medals (two silvers, one bronze) and in athletics, the Chinese men's 4x100m relay team finished 4th in Usain Bolt's Olympic swansong after the Americans were disqualified. Meanwhile, in the women's 4x100m relay final, USA took gold as expected – following their controversial reprieve at the expense of China. China's time in qualifying would have been good enough for 6th place in the final.