China's checkered past when it comes to doping, coupled with some more recent positive tests, puts the country on an increasingly unstable footing on the global sporting stage. 
One of the least heralded performances by a Chinese athlete at the Rio Olympics might just turn out to be one of the most significant.
While swimmer Fu Yuanhui became one of the stars of the Games with her refreshing post-race interviews, another backstroker, Liu Yaxin, finished 7th in the final of the 200m backstroke. But it was her performance in the semi-finals that raised eyebrows.
Eye-opening splits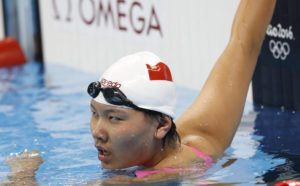 Her 50m splits were 30.81, 32.53, 32.52 and 31.70 for a total time of 2:07.56, good enough for Liu (right) to finish second in her semi, fourth fastest overall.
Now compare the 50m splits from the three fastest times ever swum:
Missy Franklin's World Record of 2:04.06, set at the London Olympics in 2012, breaks down into 29.53, 30.97, 31.66 and 31.90.
Franklin's World Championship Record of 2:04.76, set at the 2013 World Champs in Barcelona, breaks down into 29.55, 31.38, 31.84 and 31.99.
Kirsty Coventry's 2:04.81 – the previous world record – set at the 2009 World Championships in Rome, breaks down into 29.44, 31.47, 31.90 and 32.00.
Liu Yaxin's final 50m of 31.70 suddenly looks lightening fast in comparison. To be clear, there is absolutely no evidence that Liu has done anything illegal. But, equally, there are plenty of people in the swimming world who have looked at that 31.70, scratched their heads and – rightly or wrongly – concluded that doping is the only plausible explanation.
And this is where is gets tricky for China.
Because, while Liu may just be a strong finisher – she also closed the final with a 31.77 – it's the wider context that means many don't give her the benefit of the doubt. A 17-year-old with basically no pedigree at international level prior to Rio (save for an 18th place at last year's World Championships), whose technique has been described by one top swim coach as "shitty", would simply not be expected to swim that fast.
China's doping history
Here's some more context: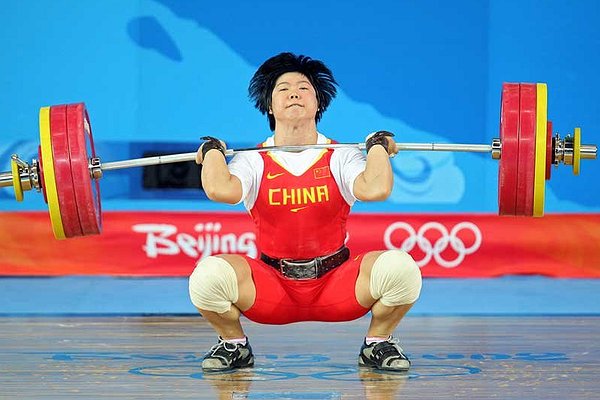 Outside of swimming, China's 51 golds from the Beijing Olympics will likely soon be reduced to 48 after three female weightlifters were busted for doping earlier this month after their original samples from 2008 were retested.
Just as bad as the positive tests is the lack of transparency and appearance of impropriety by some of China's sporting bodies, such as Sun Yang's three-month doping ban being announced only after he had completed it, or race walker Liu Hong's one-month doping ban shortly before Rio, also completed before it was announced.
Who's right?
There are two schools of thought here. The first is that China is the victim of unfair criticism from the west, keen to keep China down, with explanations offered for many of the more high-profile tests, such as Sun Yang's heart condition, or Liu Hong's tonsilitis or China's food supply that has been tainted by clenbuterol. Sun has also garnered support from unlikely places in the west.
The other camp – which grows larger and louder with each positive test – argues that all professional athletes should be 100% responsible for everything that goes into their bodies and that any doping infraction should result in a life ban.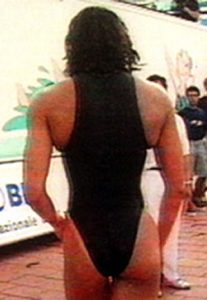 Part of the problem, says Camp 2, is that even when athletes are caught years later, such as the weightlifters from 2008, the negative attention is still far outweighed by the positive headlines received at the time. China's female swimmers, who came from nowhere to win 12 of 16 swimming gold medals at the 1994 World Aquatics Championships in Rome and were widely thought to have been doping, still remain in the record books. This article lays out why Chinese athletes are viewed by many with suspicion and the situation appears to be getting worse, not better:
It's not racism that makes Chinese swimmers easy targets; it's political mistrust. The Communist Party of China (CPC) has long been seen in the West as opaque, dismissive of international rules, and obsessed with international prestige (including in sports). That's a perfect recipe for a state-sponsored doping program – and so whether or not China is currently conducting such a program (and, again, there's no evidence that it is), it is half-believed to be guilty already, simply by virtue of its political system.
What's next?
If the levels of distrust on both sides continue to grow – egged on by a global trend in which governments are adopting more aggressive stances externally – then the threat of a breakaway swimming league, for example, or separate competitions that exclude China could become real. A worst case scenario could see China sanctioned at the Olympics to the extent that Russia was in Rio – or even fully banned – leading, potentially, to the splintering of international competitions. We're not yet at that point, but as more and more international athletes speak out on the issue, there will be increasing pressure on sporting authorities to back up the anti-doping rhetoric with action.
Domestically, it's only recently that Chinese sports fans have become familiar with the more notorious parts of their country's doping past – with plenty of voices supporting Chen Xinyi after her positive test in Rio – but as more and more Chinese speak out against doping, the hope is that those in charge will also do more to stamp it out.
To keep up-to-date with all the latest news from China Sports Insider, please click on the "SUBSCRIBE" button in the top right corner of this page.