It clearly takes a lot to tempt Italian coaching legend Marcello Lippi out of retirement for one last job, but fortunately for him there are some very deep pockets in China.
While Lippi will be officially announced as the new coach of China's national soccer team on Friday, reports have revealed that he and his team – of whom former Everton star Li Tie will be a part – will collect 20 million euros annually over an initial two-year term.
Given China's precarious state in the final round of AFC qualifying – bottom of Group A after four games – it's less like a final throw of the dice than a refusal to accept that the die has already been cast.
In the video below, China Sports Insider's Mark Dreyer discusses the Lippi hiring on CCTV News, with Yan Qiang, Tian Wei and Simon Pusey:
Lippi may have led Italy to the World Cup title ten years ago, but guiding China to the World Cup Finals in Russia from this position would arguably be a greater achievement.
From the Chinese Football Association's point of view, however, the appointment makes sense.

Former coach Gao Hongbo fell on his sword after China's recent loss to Uzbekistan, so the CFA had no choice but to appoint a new man. Given China's long-followed model of alternating between foreign and domestic coaches, as has happened with the last dozen or so national team managers, it's clearly time for another foreigner.
Lippi has previously guided Guangzhou Evergrande to three Chinese Super League titles, an FA Cup and an AFC Champions League triumph, so not only has he been successful in China, but he knows how to adapt to the quirks found in this particular corner of the world.
Finally – and most importantly – real estate firm Evergrande is reportedly putting up more than three-quarters of the cash for Team Lippi, with the CFA only paying the remaining 4.5 million euros. With that deal on the table, it would have been madness to walk away from a coach of Lippi's undoubted quality, especially since he is the man that many in China (including this writer) have long wished to see at the helm.
Unfortunately, though, none of this really matters.
If China's position looks precarious now, in three weeks' time, the team could be all but mathematically eliminated from the World Cup, with another ten months of effectively meaningless qualification games still to play.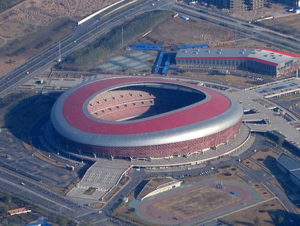 Lippi's first game in charge is against Qatar in Kunming (stadium pictured right) on November 15. An easy home win? Think again…
China beat Qatar 2-0 in March to sneak into the third round of qualifying at the last opportunity, but that was against a weakened Qatar side that had already qualified and so had nothing to play for. Prior to that, Qatar has only lost once to China in eight qualifying games (four wins, three draws).
Lose in Kunming and China could be eight points behind the third-placed team – plus a massively inferior goal difference – with five out of ten games played. As it is, China is standing at the bottom of a mountain looking up and wondering where on earth to buy some climbing gear. Even a win will do little more than raise hopes so that there is simply more disappointment further down the line.
Lippi himself will return to Italy two years from now significantly richer and with his legacy still intact having inevitably come up short in his Mission Impossible.
And Chinese football fans will do what they do best – mourn another national team failure.
To keep up-to-date with all the latest news from China Sports Insider, please click on the "SUBSCRIBE" button in the top right corner of this page.
An abridged version of this article first appeared here.