With the news that

Alibaba

vice chairman Joe Tsai is set to acquire a 49% stake in the

Brooklyn Nets

, here's a closer look at the newest sports team owner on the block and his reasons for joining the NBA's exclusive club. 
If you thought China was supposed to be cracking down on sports deals, it's worth noting that Joe Tsai is not your average "Chinese" sports owner. Born in Taiwan, he went to boarding school in the US before studying at Yale. He's now a Canadian citizen, which means that this deal won't be subject to some of the same regulatory hurdles that have, for example, slowed the acquisition of European football clubs by Chinese investors in recent months. But most other "Chinese" buyers would be subject to this scrutiny, especially if they were looking to buy a NBA franchise that could be worth in the $2-3 billion range – far more than the majority of soccer clubs that Chinese investors have snapped up over the past couple of years.
This could change in the future as the regulatory landscape shifts once more, or if the government becomes less concerned about capital outflows, but that's how it looks right now. Additionally, Tsai – whose fortune is currently estimated at more than $9 billion (just fractionally more than his future co-owner Mikhail Prokhorov) – likely has much of his wealth outside of China, since Alibaba is listed in the US (NYSE: BABA), so the outflow issue wouldn't apply even if the other restrictions did.
So just who is Joe Tsai and why does he want an NBA team?
That boarding school referred to above is the prestigious Lawrenceville School in New Jersey, which in addition to producing some well-known names in the politics and business worlds – such as former Disney CEO Michael Eisner, former Honduran President Ricardo Maduro and former White House Press Secretary Jay Carney (who would have been one year behind Tsai) – also has a very strong sports tradition. Notable alumni include New York Knicks center Joakim Noah and New York Islanders prospect – and the anointed savior of Chinese ice hockey – Song Andong.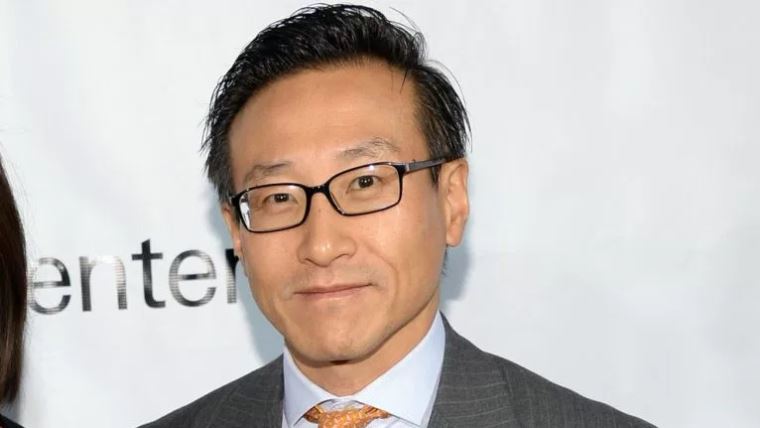 Tsai (pictured above) played collegiate lacrosse at Yale and recently purchased the new National Lacrosse League (NLL) franchise in San Diego, which unveiled its name and logo this week, while he's also talked of playing pick-up basketball on a regular basis, so it's clear he has a deep love of sports. He was also instrumental in bringing the Pac-12 NCAA basketball game to China (now in its third year) and served as the main host for the visit of the Harvard and Stanford teams to the Alibaba campus last year (below).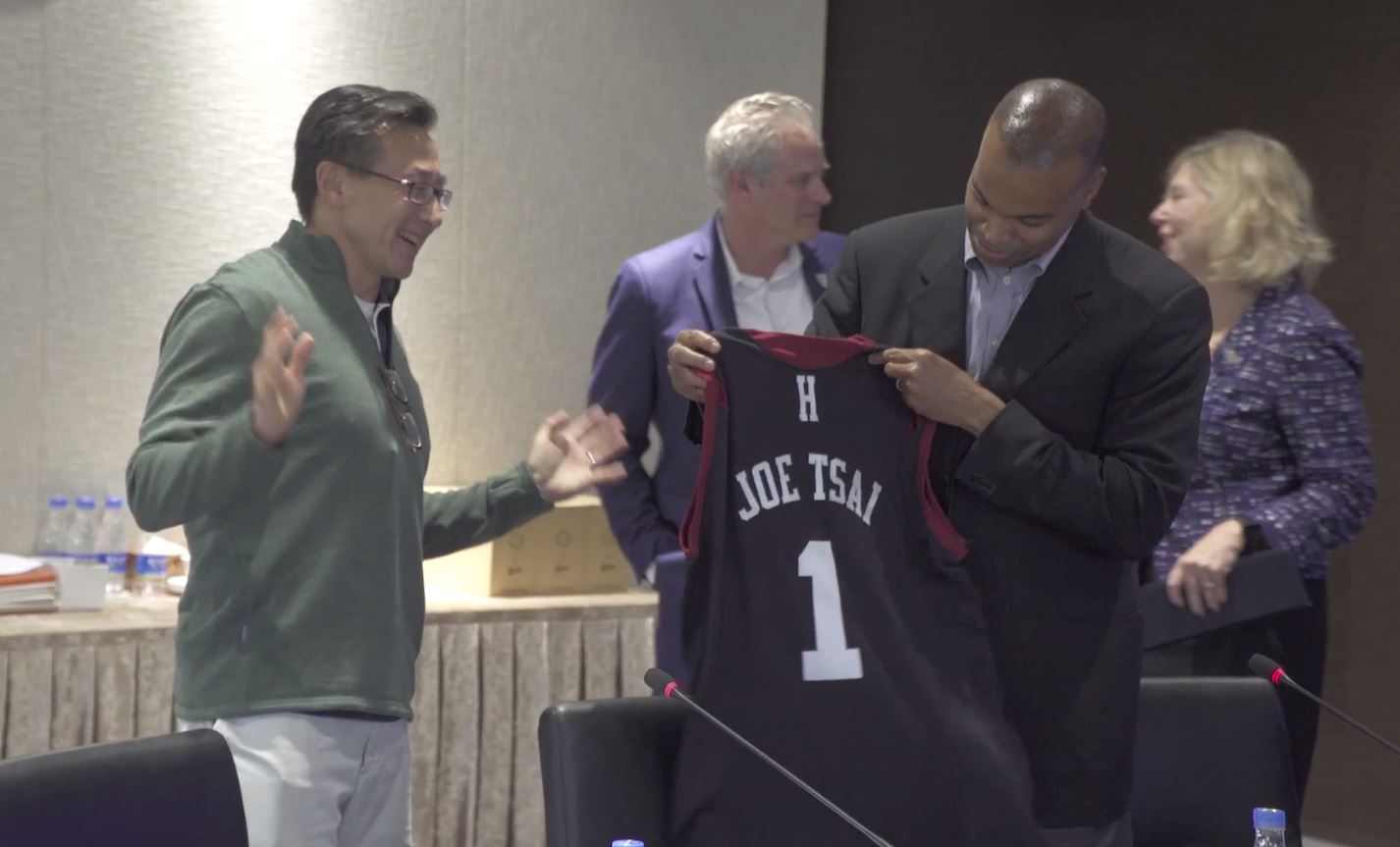 After receiving his JD from Yale Law School, Tsai became a tax lawyer and a private equity investor, before becoming an associate with Sullivan & Cromwell and working for Sweden's Investor AB, the Wallenberg family holding company. While Alibaba chairman Jack Ma – sometimes referred to as China's Steve Jobs – takes most of the headlines at his current company, Tsai was also one of the founders of Alibaba Group in 1999, serving as CFO until 2013, when he became executive vice chairman, overseeing the company's strategic acquisitions and investments.
This move, then, would seem to be a perfect blend of his academic and business pedigree combined with his passion for sports.
$2.3 billion – steep or steal?
Given that Forbes priced the Nets at $1.8 billion earlier this year, the record valuation of $2.3 billion certainly raises some eyebrows. The Nets, of course, are in that all-important New York market, but the deal does not include the Barclays Center. Contrast that with the Houston Rockets, who were recently sold for $2.2 billion in a deal that did include the building. However, teams have risen in value an estimated 3.5-fold over the past five years, so even if the Nets continue to lose more than $20 million per year, that would be a drop in the ocean compared to the overall value of the franchise.
The most interesting part of this deal is the option to acquire a controlling stake four years from now. With Tsai also owning his NLL team, it's clear he likes the idea of being a sports executive, though he won't get to dictate how the Nets are run just yet. Perhaps he's happy to sit back and learn at first, or perhaps 49% was all that was on offer today.
What will it mean for Chinese fans?
Tsai becomes the second "Chinese" owner (see the Canadian caveat above) in the NBA, but this is a far more significant deal than Jiang Lizhang buying 5% of the Minnesota Timberwolves purely because of the size of Tsai's stake. However, in reality it won't make much of a difference in the short term: Chinese fans are very knowledgeable about the NBA and already have their favorite teams and players, so they're not likely to switch allegiance for this reason.
If Rockets rookie Zhou Qi, or another Chinese player, were to play for the Nets in the future, then perhaps that might draw some extra interest, but an ethnically Chinese owner won't have the same effect. Of course, Jeremy Lin – another of Taiwan's favorite sons (though he was born in LA) and one of the most popular NBA players among Chinese fans – already plays for the Nets. But he's now out for the season and you imagine Tsai must have felt more than an twinge of irritation as Lin's knee injury occurred just as Tsai was closing the deal for the team.
So are championship rings just around the corner?
In summary, it's a great deal for Nets fans. They are getting a committed, passionate owner, who's smart enough to surround himself with the best people as and when he does take over the reins full time. Tsai's presence might not make a material difference to the size of the fan base in China, but he can certainly help the team benefit in a myriad of other ways through his connections and business interests back home. Longer term, if he's able to put together a successful squad, then the next generation of basketball fans could certainly be drawn more towards Brooklyn. Additionally, all great sports team owners need a large supply of money – and he certainly has that!
Questions or comments? Please feel free to add below.
To keep up-to-date with all the latest news from China Sports Insider, please click on the "SUBSCRIBE" button in the top right corner of this page (or see below on mobile version). Also follow along on Twitter for regular updates.