The UCLA incident last week was not the first time visiting teams have had problems while on tour in China. Here's a look at what can happen when things go south and how teams should respond when trying to manage a crisis.
Earlier this year, reigning English Premier League champions Chelsea FC visited China for the first time in nine years, eager to make some commercial inroads in the world's most populous market. Following a comprehensive 3-0 drubbing of Arsenal at Beijing's Bird's Nest stadium, you might think that Chelsea was set to take their global profile to another level.
You'd be wrong.
In the build-up to the game, little-known Brazilian winger Kenedy had made the mistake of posting two offensive messages on Instagram, the first insulting China in general, while the second poked fun at a sleeping security guard.
Football fans are pretty similar all over the world, so clearly they weren't going to let Kenedy off the hook easily when he came on as a substitute for the final 20 minutes. The boos he received accounted for a large part of the next day's headlines, with the story receiving mainstream coverage – including some very critical op-eds in Chinese media – with minimal coverage of the game itself.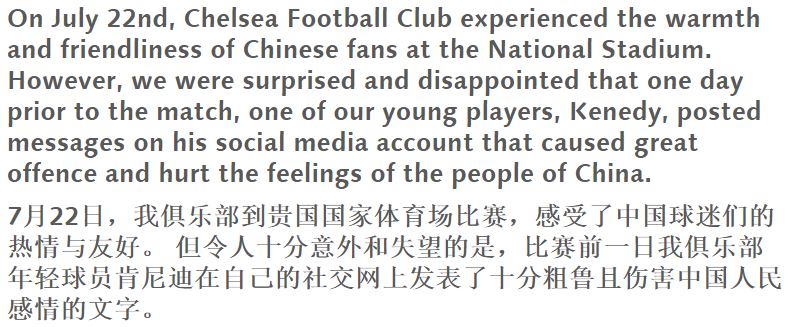 Both Kenedy and Chelsea were forced to issue groveling apologies  about how they had "hurt the feelings of the people of China" – with the club posting bilingual messages on their website and social media platforms, while Kenedy was sent home in disgrace. Meanwhile, Chelsea had flown off to Singapore for their next match almost immediately after the Arsenal game, with the result that their long-awaited China tour was an unmitigated disaster. Months of planning had gone out the window as their plans to reconnect with Chinese fans after a nearly decade went up in flames. Hardcore supporters will probably have stayed loyal to the club, but they certainly won't have won themselves many new fans – almost solely as a result of Kenedy's indiscretions.
So last week's incident when three UCLA teammates were detained in Hangzhou on shoplifting charges is just another example of how something completely unconnected to a visiting team's main purpose can derail a tour almost immediately.
In UCLA's case, events conspired to create the perfect storm.
UPDATE: ALL shoplifting charges against LiAngelo Ball, Cody Riley and Jalen Hill were dropped, meaning the UCLA trio return home with a clean record. They also were NOT officially deported. https://t.co/VM5tGmdA50 pic.twitter.com/JcS0AVkabq

— Mark Dreyer (@DreyerChina) November 14, 2017
Not only did it take place on the eve of President Trump's "state visit plus", but one of the players just happened to be a member of the sport's family of the moment. If you don't know the Balls by now, here's the summary: Dad LaVar has created the Big Baller Brand (BBB) shoe and sportswear company off the back of his three sons, with the eldest, Lonzo, currently impressing in his rookie season with the Lakers; they have a Kardashian-style reality TV show on Facebook called "Ball in the Family"; and LaVar's outrageous statements about both his sons' and his own ability have ensured he's stayed in the limelight throughout 2017.
Those two reasons alone – Trump and the Ball connection – would have been enough to drive this story into the mainstream, but there's more. The entire Ball family, minus Lonzo (i.e. Mom, Dad, LiAngelo and LaMelo) were over in China not only to film their reality TV show and watch LiAngelo's scheduled game against Georgia Tech, but to open two pop-up BBB stores in Shanghai and Hong Kong.
However, perhaps the biggest reason of all was that ESPN reporter Arash Markazi, who ordinarily wouldn't be sent to China to cover college basketball, just happened to have been in the country the previous weekend for the League of Legends esports world championships in Beijing and stuck around to see some basketball action too.
Without Markazi onsite in Hangzhou and Shanghai, feeding every latest development into SportsCenter – still the beating heart of the US sports news cycle – it's very possible that this story would barely have hit the headlines, strange as that may seem now. Additionally, given the drawn-out nature of the story – details of the incident leaking out bit by bit, unknown punishment, unclear length of detention in China etc – there was then more than enough to keep this story continually in the news cycle.
Silver linings
From the perspective of the Pac-12 conference and Alibaba, who hosted the tour to China, there are three aspects that helped mitigate this unfortunate situation:
Time. While the shoplifting incident monopolized the headlines, the rest of the players on tour moved on with their lives. UCLA and Georgia Tech traveled from Hangzhou to Shanghai, visited Disneyland, coached some local kids in player clinics and played their regular season opener. Not only did that enable them to move the focus towards more positive angles, but the headlines naturally changed with the passage of time. Contrast that with Chelsea, who jetted out of China almost as soon as their storm had erupted, with no chance to try and repair some of the damage.
Narrowing focus. From an initial investigation that had encompassed both Pac-12 teams, the spotlight soon focused solely on UCLA, then on the three players involved and then, more specifically, on LiAngelo Ball. As a result, the Pac-12 was able to distance itself from the trio to some extent, and the focus as they return home is now very much on their suspension and uncertain future at UCLA. While there is bound to be a partial hangover for the conference in subsequent China Games, it can also now attempt to move on as the Pac-12 starts planning for next year's match-up between Cal and Yale.
Overall brand. The Pac-12 is still in its infancy in China terms, with this year's game just the third regular season fixture it has staged here. It's worth remembering that it has very much been the US media obsessing over this story – not their Chinese conuterparts. Far more sports fans in China will have heard about Kenedy's indiscretions over the summer than about the UCLA trio, at least in part because the Ball phenomenon has simply not yet arrived on these shores. The Pac-12's main objective has been to establish its presence in China and build a rapport with local fans, but that takes time. Sometimes being smaller has its advantages.
Lessons learned
It should go without saying – but clearly bears repeating here – that athletes should be on their best behavior when traveling to China (or anywhere, for that matter). Instead of treating this tour like a vacation or an opportunity to let their hair down a little, players should realize the roles they play – first and foremost as ambassadors for their teams.
Kenedy and the UCLA players, for example, are all young, but it's hard to believe the Brazilian would openly slag off English fans on social media or that the basketball trio would steal from stores so brazenly back in Los Angeles. They either weren't thinking or, worse, thought they could get way with it.
Answer: you can't – especially in China.
The UCLA trio certainly would have had time in their hotel room to think over their misguided choices, though 10 days confined to a top-end hotel is a world away from 10 days' detention in a Chinese jail. They were lucky, but certainly haven't got away scot-free, given how this will undoubtedly affect their longer term futures.
The Pac-12 through commissioner Larry Scott and Alibaba through executive vice chairman Joe Tsai – the new co-owner of the Brooklyn Nets – certainly didn't shy away from the story, and did the right thing in addressing the incident while trying instead to focus on the rest of the visiting party. Being proactive is always a good strategy and helps to get the local media onside, which is key when trying to build a lasting brand in China.
To keep up-to-date with all the latest news from China Sports Insider, please click on the "SUBSCRIBE" button in the top right corner of this page (or see below on mobile version). Also follow along on Twitter for regular updates.
Related reading: