China's largest ever Olympic contingent of 411 athletes has brought expectations for a sizeable medal haul to Brazil. But with with local issues compounded by some wider – and more worrying – trends, it is no exaggeration to say that the Rio Olympics are facing potentially fatal headwinds.
The Rio Olympics are shaping up to be the most pivotal of recent times.
Not because the sporting action is any more anticipated than at previous Games – far from it – but because the Olympic concept has taken so many knocks in recent years that the very credibility of the Games is under threat.
Continue reading Pressure builds on China as problems circle Rio Olympics →
With several high prominent western leaders boycotting the Sochi Olympics, it was of even more importance to Russia and the IOC that Chinese President Xi Jinping attended the opening ceremony. In an official press release about the first ever IOC President's dinner, Xi was mentioned in the same breath as Russian President Vladimir Putin, UN Secretary-General Ban Ki-moon and Karolos Papoulias, President of Greece (home of the Olympics). All other attendees were listed further down the release, showing the importance of Xi's presence.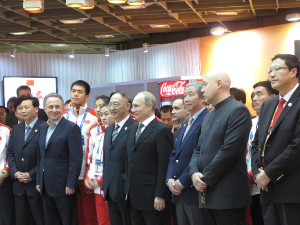 Continue reading China, Russia in mutual backscratching at Sochi Olympics →