It's been another big week for Chinese telecoms firm Huawei in the world of sports. Firstly, as previously mentioned, the company sponsored the ITU World Triathlon Grand Finale in London last weekend (and, as an aside, the ITU is the International Triathlon Union, not the International Telecommunications Union, as originally mentioned in this (now corrected, but still) shocker of a piece by Sir Simon Jenkins), meaning plenty of prominent signage for Huawei all over London's Hyde Park.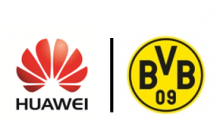 Next, top German soccer team Borussia Dortmund announced Huawei as its new "Champion Partner" amid plans to install a wi-fi network at Dortmund's Signal Iduna Park (capacity: 80,645) to deliver stable data services to a crowd the size of a small town. According to this article on the::unwired, that's something that would be greatly appreciated by German soccer fans since  3G and 4G connections are practically unusable during big soccer games. Huawei and Borussia Dortmund will also team up to create and send exclusive content (team line-ups etc) directly to fans' phones ahead of kick off.
And finally, staying with soccer but moving to New Zealand, Huawei has replaced Sony as the shirt sponsor of the Wellington Phoenix in a three-year deal. Well done to both club and company for tackling the obscurity surrounding Huawei head-on with this brilliant video, with a heading that reads:
We are pleased to announce our new Principal Partner Huawei…If only we knew how to pronounce their name! Here's how…
Are things finally beginning to turn around for the much-maligned Chinese company?