The news that French football manager Alain Perrin (pictured below) has been appointed to lead the Chinese national team has caught most of the media by surprise, with my thoughts summarized in this Beijing Morning Post article (Chinese).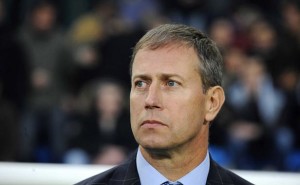 "Reggie", as he was known in the UK – after the hapless TV character Reginald Perrin – when he briefly managed Portsmouth in the Premier League nearly a decade ago, seems to have lost his way and it is highly unlikely that he can get his career back on track in China.
Perrin has always managed to find work – no doubt thanks to his early association with Arsenal manager Arsene Wenger – but he is now beginning his fifth job in less than four years, with previous stints in Europe typically lasting little more than a year.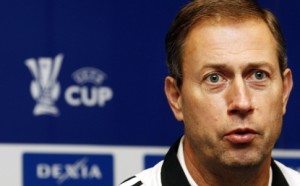 More worrying still is that his four most recent jobs have been in Qatar. Perrin is, of course, free to choose where he takes up employment, but there is only one reason why expats go to the Gulf: tax-free money and lots of it. There is also plenty of cash thrown around in Europe's top leagues – but only for those able to get a job there. In short, only the most foolhardy would argue that Perrin has been honing his craft in the 14-team Qatar Stars League that is ranked the 66th best in the world.
The other most worrying aspect of this appointment is timing. Jose Antonio Camacho was sacked in June last year, giving the CFA ample time to find a replacement. Fu Bo has done an admirable job as caretaker manager – his record of four wins and four draws in eight games is impressive – and he can count himself extremely unlucky to have been passed over by the authorities. But having waited more than eight months to announce Camacho's successor, the Chinese Football Association (CFA) has given Perrin exactly one week to prepare for a crucial Asian Cup qualifier against Iraq in the UAE on March 5, in which China must get at least a point to ensure qualification (even though Fu Bo is still expected of take charge of the match).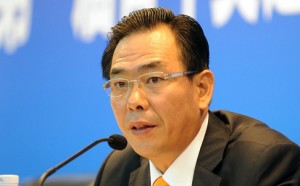 When the CFA, now led by former table tennis head Cai Zhenhua (pictured right), announced last year that Fu would not get the job full-time, they listed certain requirements that the new man would need. But there is nothing in Perrin's CV to suggest he is familiar with Chinese soccer – one of those supposed key requirements.
The People's Daily newspaper has reportedly said Perrin will earn less than $1 million per year – or roughly the salary of one of Camacho's assistants. Perhaps Perrin earned enough riyals in Qatar that money no longer matters. But with the CFA earlier stating the next boss would lead China's attempt to qualify for the 2018 World Cup, a long-term contract for Perrin is extremely risky given his short-term approach.
CFA boss Cai said recently that if China can launch rockets and target a moon landing, then revitalizing the national soccer team should be comparatively easy. This, though, feels like they will continue to be stranded in space for some time to come.