China Medal Count
0 gold, 2 silver, 3 bronze
Day 1: Medals
Silver: Du Li (women's 10m air rifle); Sun Yang (men's 400m freestyle)
Bronze: Yi Siling (women's 10m air rifle); Sun Yiwen (women's individual épée), Pang Wei (men's 10m air pistol)
Day 2: Ones to Watch
The best chance likely comes in diving as Wu Minxia and Shi Tingmao go in the women's 3m synchro. Elsewhere, Chen Xinyi and Lu Ying have made it to the final of the women's 100m butterfly, but are not expected to win a medal, and Zhang Mengxue has qualified for the women's 10m air pistol final. And I would have said reigning Olympic champion in the men's foil Lei Sheng, but at the time of writing, China's flagbearer has just been dumped out.
Day 1: Review
To say that Day 1 of the Olympics was disastrous for China would be an exaggeration, but it certainly didn't go as planned.
Three Olympic champions from London each failed to retain their titles and China ended the day behind both Thailand and Vietnam in the medal table.
In truth, if it wasn't for China's lust for gold medals, Saturday might have been considered a good day's work, with China's two silvers and three bronzes putting them equal top by total medals.
China's obsession with winning the first gold of every Games is also puzzling, but in recent times the schedule has worked out favorably. The first medal on offer in Rio was the women's 10m air rifle competition, and some neutral observers had predicted a 1-2 finish for China, with 2012 Olympic champion Yi Siling looking to have the edge over 2004 winner Du Li.
In the event, Du beat Yi, but both were stunned by 19-year-old Virginia Thrasher, whose stated goal at the start of the year had simply been to qualify for the US team.
Next up was Xu Anqi, reigning Olympic champion in the women's épée. But she was stunned 15-8 in her opening bout by an unfancied French opponent, and another title was ceded.
Her teammate, Sun Yiwen, at least provided a consolatory bronze in what was arguably China's performance of the day, given that she had finished 32nd and 71st in the past two World Championships.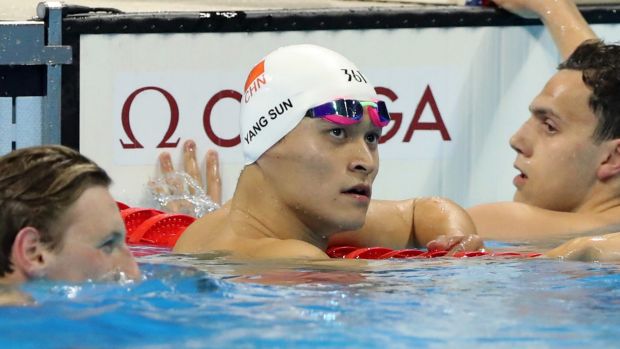 Despite the slow start, however, swimmer Sun Yang remained China's best hope for gold on Day 1. He had clashed with Australian rival Mack Horton in training last week, with the Aussie referring to Sun's mysterious three-month drugs ban in 2014, while Sun splashed Horton in return. Sun Yang was then pictured talking to other Aussie swimmers in what looked like a continuation of the feud on the bus back to the village.
Mack Horton on Sun Yang:
"It kind of got played up in the media a little bit. He just splashed me to say 'hi' and I ignored him because I don't have time or respect for drug cheats. He wasn't too happy about that so he kept splashing me and I just got in and did my thing."
Whatever the details of that spat, it was clearly an unwise move for China's double Olympic champion, as Horton beat Sun for gold in the 400m freestyle by 0.13 seconds. Sun burst into tears after the race and the bitterness continued into the press conference.
Sun Yang has other chances in Rio, but this is typically his best event. But the feud with Horton has now continued after Chinese net users trolled Horton's social media accounts, demanding he apologize to Sun.
The host nation was also having some problems of its own.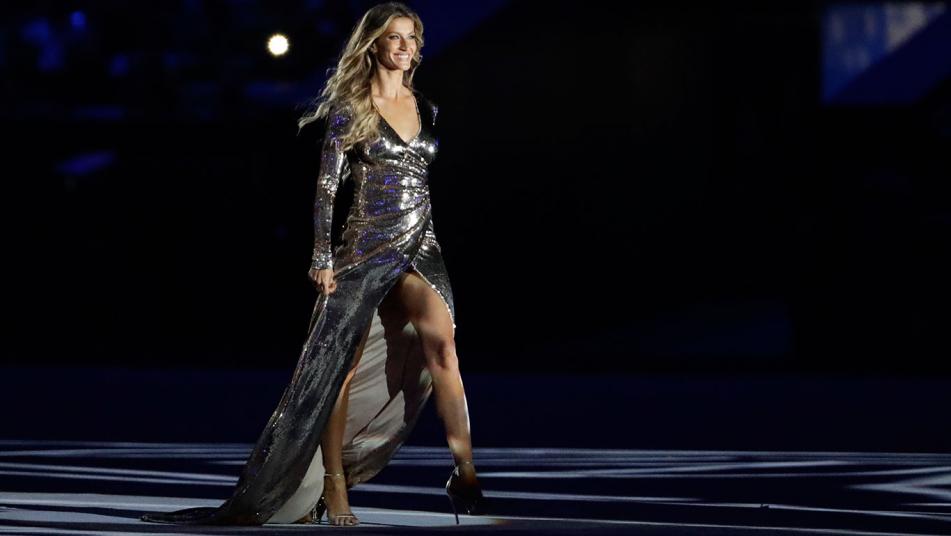 Following an embarrassing bus dispute between Israeli and Lebanese delegation members on the way to the opening ceremony, the ceremony itself could best be described as "functional", with budgetary constraints placed well above above entertainment, and capped off when Brazilian soccer legend Pele was too ill to light the torch. The highlight for fans of fashion, at least, had come earlier when Brazilian model Gisele (above) strutted down the longest catwalk of her career.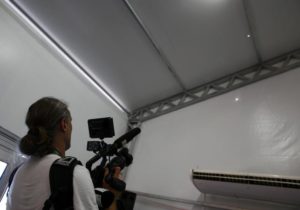 Journalists have been complaining of both long lines and appalling food – first-world problems, perhaps – but when news came through that a bullet had pierced the canvas wall of the media center (see picture above), thought to have come from a nearby shooting range, many must have wished they had paid more attention to their pre-Games health and safety briefing.
Elsewhere, the men's road race provided some breathtaking views, even if the treacherous descent snared rather more riders than the organizers would have hoped.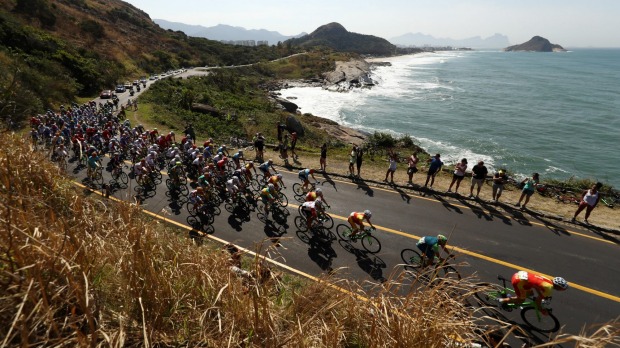 But after the endless problems in the build-up to Rio, the Games are up and running, and sporting action can now – hopefully – take center stage.