Day 7 review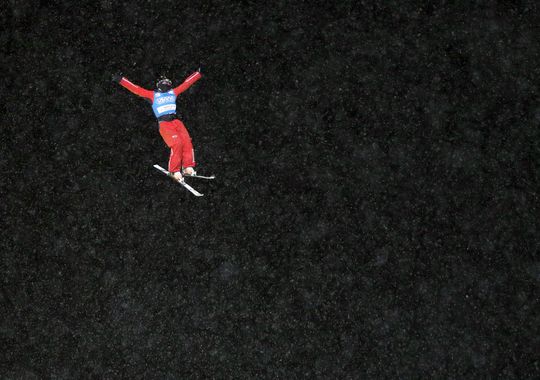 Chinese interest on Valentine's Day focused on the women's aerials competition, but it was a late one: three of the four Chinese competitors made it through to the final, which didn't start until 0130 China time. Once there, all three – Xu Mengtao (above), Li Nina and Cheng Shuang – made it through the first stage as four of the 12 finalists were eliminated; then Xu, the 2013 world champion, and Li, Olympic silver medalist in 2006 and 2010, made it through to the final four with defending champ Lydia Lassila from Australia and Belarusian Alla Tsuper, a 34-year-old mother taking the last jump of a 16-year Olympic career that had seen her finish 5th, 9th, 10th and 8th – but no medals.
Until now.

Tsuper went first and nailed her jump. Li then crashed, as did Lassila, leaving Xu one shot at glory. Her jump was good, but not enough for gold: Tsuper won, Xu took silver for China and Lassila got bronze. Not the result China was looking for, but a great competition nonetheless.
Elsewhere, the men's curling team's unbeaten streak came to an end with a nailbiting loss to Sweden: it was 5-5 after the usual 10 ends, but Sweden scored a point in the first extra end to win 6-5. China then bounced back with a 7-5 win over Norway in the evening session to go joint top of the table. Meanwhile the women trounced South Korea 11-3 to improve their record to 3-2.
Day 8 preview
Saturday sees more short track skating action at the Iceberg Skating Palace – a happy hunting ground for China so far – with Zhou Yang looking to defend her title in the 1,500m. She's joined by Li Jianrou, who won the 500 m even though she's better at the longer distances, and Liu Qiuhong, who was 4th in the 500 m. Heats start at 1800 China time, with semis at 1912 and the finals (B then A) at 2006. Breaking up the races will be the men's 1,000 m, featuring teenagers Han Tianyu and Wu Dajing. Quarterfinals start at 1843, semis at 1943 and finals at 2020.  China has real medal chances in both races.
Tian Guojun lines up in the long track 1,500 m, but it would be a huge shock if he breaks into the top three.
In curling, China's women (3-2) face Sweden (4-1) in the morning session and then Denmark (1-5) in the evening. The men (5-1) face Russia (2-4).