Well that didn't last very long. Tipped by many to become the next world snooker champion after his record-breaking season, China's Ding Junhui lost to qualifier Michael Wasley 10-9 in the first round in what World Snooker's official website called "one of the biggest first round shocks in Crucible history".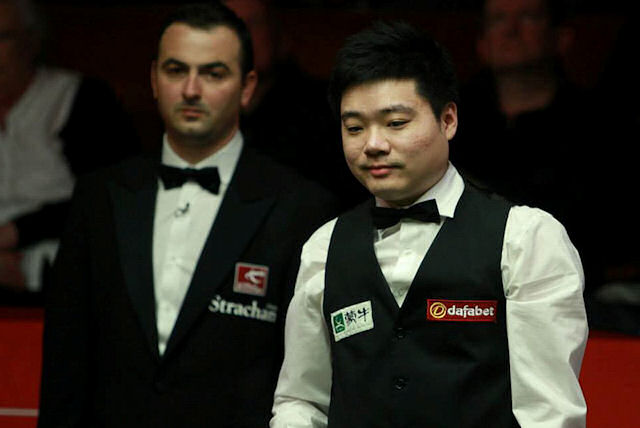 World number 2 Ding was comfortably ahead 6-3 and still led 9-8 at the end of their second session, which ran so long the final frames had to be postponed. After waiting four hours to get back on the table, Wasley tied it up at 9-9 as the clock neared midnight with a 103 break. The final frame lasted 40 minutes and Ding was up 53-46, but a fluke red gave Wasley the advantage and, after evading three tough snookers on the pink, the world number 73 closed it out to win 10-9.
Ding afterwards blamed the cushions and bad luck, but also joked:
"Nearly every time I win a tournament, the next one I lose in the first round. Maybe I just win too much!"
So what does this do to Ding's marketability?
After the season he's had, Ding had a superb opportunity to at least go far in the tournament and make some headlines with a potential semifinal against five-time winner Ronnie O'Sullivan – if not win the tournament outright. But with the World Champs arguably getting as many headlines globally as the rest of the season put together, the worry is that he has effectively wasted all his good work and will be remembered for his flop on the big stage, rather than a spectacular season. That's clearly not good news on the international sponsorship front.
It's hard to put a positive spin on things back home in China as well. Snooker – and, by extension, Ding – is very popular in Tier 2 and 3 cities, but a win in Sheffield could have propelled him to the very top group of sports stars in China, with perhaps just Li Na remaining (well) in front. Wins on the world stage by Chinese are worth triple their weight in gold, but Ding has failed to fully capitalize on the buzz – just as he was unable to do so when he first burst onto the scene back in 2005. After dealing with the pressure so well earlier this year, perhaps it got the better of him once again.