China Medal Count
17 gold, 15 silver, 19 bronze (3rd place overall)
Day 11: Medals
Gold: Cao Yuan (men's 3m springboard); Ding Ning, Li Xiaoxia & Liu Shiwen (women's table tennis team)
Silver: Huang Xuechen & Sun Wenyan (synchronized swimming duets)
Bronze: Dong Bin (men's triple jump); Zhang Nan & Zhao Yunlei (mixed doubles badminton)
Day 12: Ones to Watch
China's best bet for gold on Day 12 comes in the men's table tennis team event, where they start as hot favorites against Japan in the final. No more volleyball until Day 13, but Chen Long and Lin Dan play opponents from India and South Korea, respectively, in the men's singles badminton quarter-finals. Two-time Olympic women's taekwondo champion Wu Jingyu begins her bid for a record third Olympic gold medal. Yin Junhua takes on Finland's Mira Potkonen in women's boxing (57-60kg) for a place in the final. Major winner Feng Shanshan and rising star Lin Xiyu carry China's golfing hopes as the ladies event gets underway. Meanwhile, GB look set to pick up at least one gold in sailing on Day 12 so don't expect that golden gap (currently 19-17 to GB) to close just yet.
Day 11: Review
China got a gold medal boost from a couple of familiar sources on Day 11 of the Olympic Games: diving and table tennis.
In the men's 3m springboard competition, Cao Yuan (left) dominated from start to finish, first at every stage of the competition, before winning by almost 24 points. His scores never dipped below 85.00 and his near faultless performance made up for the disappointment of failing to win gold in the men's 3m synchro final.
Meanwhile, China has now won 22 of the last 23 gold medals in table tennis, as a women's team that consisted of Rio singles gold medalist Ding Ning, silver medalist Li Xiaoxia and world No.1 Liu Shiwen dropped just one game in a 3-0 triumph over Germany. In fact, two of the three German players – Han Ying and Shan Xiaona – are Chinese-born but now represent Germany, because they couldn't get into the Chinese team.
The Chinese dominance of the sport, with several naturalized Chinese players now representing other nations, is something that the game's governing body, the ITTF, has struggled with as it seeks to make table tennis more popular worldwide. Liu actually alluded to that when she dropped a game in the final match, saying, "I do need to allow my competitors to take part in this game and make it more interesting. We want a match that lasts, so it was a good thing."
But if ping pong is still very much China's game, the Chinese dominance of badminton – where it won all five golds in London four years ago – appears to be a thing of the past.
China has already ceded its titles in mixed doubles and women's doubles, and the remaining three events will be far from easy. Li Xuerui, reigning champion in the women's singles, now faces Spain's Carolina Marin, the double world and European champion, who is still to drop a game in Rio, and recently spoke of the importance that it is not always the Chinese who are in the final.
More varied results certainly make a sport more appealing to a wider audience, even if China would just as rather keep those results as consistent as possible.
But elsewhere, there were some bright spots, even as Great Britain extended its lead over China for second place overall with nine medals on Day 11, of which three were gold.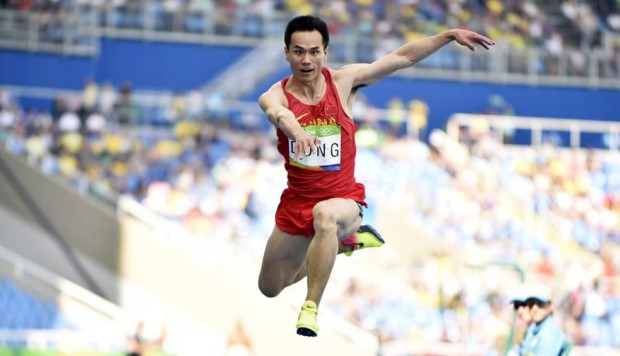 Huang Xuechen and Sun Wenyan gave China only its second ever medal ever in the synchronized swimming duets event, as they finished in the runner-up spot, while Dong Bin (above) laid down a huge first leap in the triple jump final that was good enough for a surprise bronze medal. Elsewhere, China got its second straight 4th place in the marathon swim, with Zu Lijun recording the exact same time – 1:53:02.0 – as third-place finisher Marc-Antoine Olivier, but was denied a medal by a photo finish.
But arguably the highlight of Day 11 was supplied by the Chinese women's volleyball team.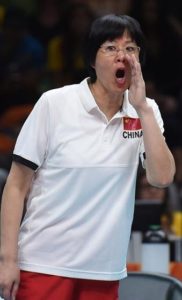 In a see-saw match that finished well past midnight in front of a typically hostile home crowd, China ended the day on a high as the women's volleyball team edged reigning champions Brazil 15-13 in a tight final set . Despite losing three group stage games, the volleyball team now face a semi-final match-up against the Netherlands.
Legendary coach Lang "Iron Hammer" Ping (above right) said of her charges after the game, "They are young and they are inexperienced and their volleyball techniques are immature." But to beat Brazil – who had not dropped a set all tournament and were looking for a third straight gold on their home turf – was quite something.
Women's volleyball remains a big sport in China, with Olympic titles won in 1984 and 2004. A medal of any color in volleyball this year is still far from guaranteed, but no one will be looking forward to playing China after a performance that left both sets of players in tears.